Become Part of the Family
At Carlisle, learning and living with peers and committed, caring adults create a community consistent with our mission. The experience of being away from home instills a sense of confidence and responsibility, thus providing a smoother transition to college. Boarding life grants students the opportunity to meet people from all over the world, and get to know them through studying together, sharing the fun in the boarding house, participating in the arts and athletics, and enjoying weekend trips and activities.
Our international students have two housing options available: on-campus housing and family homestay, both of which offer close-knit, nurturing settings designed to feel like a home away from home.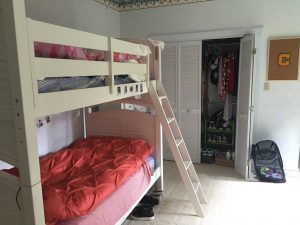 Boarding Options
Three International Student Houses with full amenities adjoin campus and the beautiful Chatmoss Country Club.  These offer housing for eight students apiece in single-gender settings. Each student shares a bedroom and bathroom with another student. Dorm parents live with the students in the international houses, offering guidance, and helping create a sense of family life. Boarding space is limited so apply now. 
Homestay Option
Students may also elect to be hosted by a family in the community to be fully immersed in American life. All of our host families are local residents, and in most cases have students who attend Carlisle, so they are familiar with the school. This connection to Carlisle helps our international students quickly integrate into life at Carlisle.
Activities
Studying away from home is not only about education in the classroom, but also about learning from daily experiences. Our International Program is dedicated to ensuring that our boarding students have many opportunities to have fun and make friends. Weekly activities and entertainment options are provided, such as music concerts, theater, sports events, movies, shopping, and day trips. Located in the beautiful foothills of the Blue Ridge Mountains, the Martinsville-Henry County region offers small-town charm with a rich variety of cultural and outdoor opportunities. Explore the Virginia Museum of Natural History or Piedmont Arts Association. Catch a theater performance at our local Theatre Works or a concert at the Rives Theatre. Enjoy the outdoors at the Smith River Sports Complex or along our numerous walking trails and parks. Only an hour away in the metropolitan areas of Roanoke, Virginia and Greensboro, North Carolina, you can find even more opportunities for entertainment, dining, and shopping.
Meals
Breakfast, lunch, and dinner are included in the tuition. Students are provided with breakfast every morning at the International Student Houses. Our catered lunches include a hot bar, salad bar, deli bar, yogurt/cereal bar, fresh fruit, and a drink. Dinner is served in the student houses. Students often dine out as part of weekend activities, and many times students find it fun to cook their favorite meals for the house to share a part of their culture.