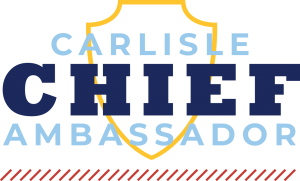 Become a Chief Ambassador
We are seeking parents, students, alumni, and community leaders to serve as Chief Ambassadors. Join our team to help share how The Carlisle Experience impacts you, your family, and your community. 
Contact Sandy Bailey to learn more, sbailey@carlisleschool.org. 

"The communications that come out always keep me in the loop and the teachers are absolutely AMAZING with ensuring Cameron is on the path to success. At Carlisle, Cameron has been able to flourish with small class sizes, a nurturing staff that is genuinely connected to each and every student, and the rigorous academics. We are proud to be part of the Carlisle family!"
Ashanti Coles
Mom to Cameron "Cam"

"I've had the privilege of getting to know Carlisle school through two different perspectives, one as a faculty member and more recently as a parent. I have come to think less of it as a job and more as an intellectual opportunity. It has provided me with a great educational foundation that I want for my own children. In fact, we enrolled our daughter in the preschool program this year and it was a decision that has validated our feelings about the Carlisle Experience."
Juliana Carter
Mom to Maryn

"At Carlisle, I've found that you will not only get an education you can be proud of while having teachers that truly care about you, but you will also always be part of a family here."
Jameson Smith
Student, Class of 2022

"My daughter has been at Carlisle since Kindergarten. She is now in the 8th grade. We love the school because it is more of a family. The teachers care—the staff care. I'm so thankful and appreciative of how this school goes beyond the call of duty for its students. If you want small classes, caring teachers, and a great education, Carlisle School is the place."
Anishia Johnson
Mom to Destiny

"Our experience at Carlisle has been outstanding!  With three children with three very different personalities enrolled, their individual learning needs, strengths, weaknesses, and interests are met in a friendly and supportive environment allowing them to grow and succeed."
Jessica Zagol
Mom to Tom, Charlotte, and Lorelei

"Carlisle prepared me not only for Virginia Tech but law school and my legal career. I know I wouldn't be where I am now if it weren't for the teachers who cared so much about me and my success."
Manisha P. Patel, Esq.
Class of 2004 Alumna

"The student and teacher relationships are special and helped me open up. It makes me feel comfortable and safer, knowing that the teachers are doing everything they can to help the students here succeed."
Hadden Probst
Student, Class of 2021

"We have been very pleased with Carlisle's methods of teaching. We are truly delighted with how our children are embraced, nurtured, and supported by the staff and teachers. Our children are excited to go to school and learn new things each day."


Amber Heath
Parent of Andrew and Jackson

"Carlisle is important to me because the education given is beyond a typical private school. It is the dream of how education should be, and the character/moral education is helping me raise my daughter into a human being I am so proud of all the way through."
Michelle Bloomer
Mom to Chloe
"Carlisle has always provided a safe and nurturing environment. Where challenging academics have been the norm, where team play, the stage, and other extracurricular activities have built confidence and the ability to work with others. Upon graduation, our children were more than prepared for college, academically and to lead with self-confidence and ability."
Gayle Thomson
Mom to Erica, Henry Giles, Luke, and Brooke
Share Your Testimonial