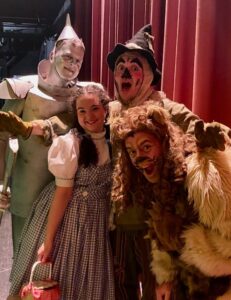 Scarlett Norman, a Junior, has been selected for the role of Dorothy in the Wizard of Oz show at the Carolina Theatre of Greensboro. Norman has a passion for theater and has been involved in show life since she was three years old. Norman is no stranger to the limelight and has been a part of more than ten Carlisle productions.
The Carolina Theatre of Greensboro productions consist of over 100 talented kids, teens, and adults both on-stage and backstage. This year marks their 28th production of The Wizard of Oz, where the character of Dorothy will be portrayed by both Scarlett Norman and Isabella Gore as they alternate shows.
When Norman was asked to speak on her experience of playing the role of Dorothy, she said, "Playing the iconic role of Dorothy Gale has been a dream come true. It has been an honor to perform alongside 93 of the most talented people and to be an ambassador for the Community Theatre of Greensboro. From the personal appearances, TV spots, billboards, and the stage – The Wizard of Oz has been an experience of a lifetime. I have truly been blessed and will forever be grateful for this opportunity." 
Norman has already performed in several shows and will walk the Yellow Brick Road one last time this Saturday, November 18th, at 7 PM.
For ticket information, go to https://bit.ly/CTOGWizardofOztickets.