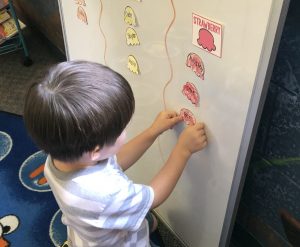 Carlisle School preschool is a transformative learning journey of discovery every day for every child. We are a family-oriented center that focuses on the whole child's physical, social, and academic needs. Children will gain independence in a safe environment that is nurturing, enriching, and diverse.  The students will be engaged in child-centered learning experiences that foster collaboration with their peers while they are immersed in discovery-based activities.  
These learning experiences are matched with the academic abilities of each child. Our highly skilled teachers develop individual plans for their students that spark curiosity and encourage academic growth.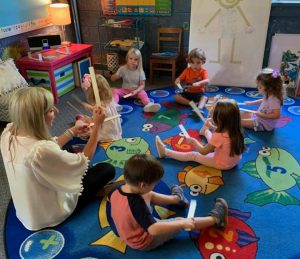 Our balanced curriculum promotes kindergarten readiness through language, literacy, mathematics, social studies, science, world languages, art, music, creative movement, dramatic play, and technology. Our program is enhanced by project-based learning, an outside discovery center, and Tucker Signing Strategies for Reading.
When children transition to Lower School, they are self-confident, prepared for success, and enthusiastic about learning.  These vital factors allow our children to become leaders in their school, community, and world.
Program Highlights:
Provides child-centered learning that encourages collaboration while immersed in play-based activities
Stresses holistic development in a nurturing, safe, and diverse environment
Fosters compassion, curiosity, creativity, and critical thinking through a multi-sensory approach
Provides a balanced curriculum that includes discovery-based learning and exploration, to promote kindergarten readiness
Develops strong partnerships between students, teachers, and parents
Encourages physical, mental, and social development in a combination of indoor and outdoor exploration.
Flexible scheduling to meet the developmental needs of every child
Fosters self-confidence and  enthusiasm for learning
Diverse Learning Opportunities
World Languages –We understand the importance of offering world languages for children at an early age.  In the preschool, instruction follows a modified immersion model with a concentration on culture and conversation.


Physical Education – Students in Pre-K participate in a 30-minute physical education class each day.


Technology – The school incorporates a best practice approach by integrating technology at all levels. iPads and Promethean Boards are used to enrich the curriculum.  Students participate in the Keyboarding with Tears program.


Guidance – Health, wellness, and character development are supported by a full-time guidance counselor and nurse.


Arts – The arts serve a unique purpose in the educational development of each student. Classes strive to encourage and nurture each child's natural creativity and curiosity. Weekly music and creative movement classes focus on musical awareness, sensitivity, vocal development, and fine motor skill. All students perform on stage several times a year.


Story Time – Pre-K students go to the library weekly for story time.  They are exposed to a variety of literary traditions to expand their vocabulary, strengthen listening skills, and enrich their imagination.


Field Trips – Students have several opportunities for offsite experiential learning with field trips.


Dance Class – Pre-K 4 students are welcome to participate in after-school dance classes for a moderate fee.
Program Details 
Our Early Childhood Program is licensed by the Department of Social Services, and we are accredited by the Southern Association of Independent Schools.
Children must be age three by the start of school and fully potty trained.
Children turning 3 after the start of school are eligible to join the program at that time.
Children turning 4 by September 30 are eligible to join our Pre-K 4 program.
Pre-K 3 meets Monday-Friday or Monday, Wednesday, and Friday from 8:00 am to 1:00 p.m.
Pre-K 4 meets Monday-Friday from 8:00 am to 1:00 p.m.
Each classroom has one lead teacher and one associate teacher.  A world language instructor will assist the classroom teachers during instruction. 
Little Chief's Extra Care: 1:00-3:00 p.m. – Students may enroll for an additional fee.
---
Quick Links: