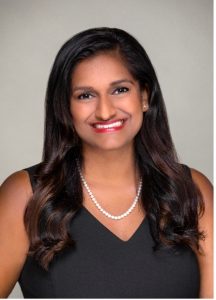 Attorney Manisha P. Patel was selected by membership as Secretary of the Executive Committee of the National Conference of Women's Bar Associations ("NCWBA"). Patel was selected for this leadership position, by membership, at the 2022 Annual Leadership Summit for NCWBA on August 5, 2022 in Chicago, IL in conjunction with the American Bar Association ("ABA") Annual Meeting. Patel was originally appointed to a three-year term for the NCWBA Board of Directors in 2021. Patel previously served as the President for NCWBA member, the North Carolina Association of Women Attorneys, for two terms in 2019 and 2020.
The NCWBA was founded at the 1981 ABA Annual Meeting. In 1991, the ABA House of Delegates recognized the NCWBA as an affiliate organization granting the NCWBA a seat in the ABA House of Delegates. NCWBA advocates for equality in the legal profession and in society by mobilizing and uniting women's bar associations to effect change in gender-based processes and laws by providing a national forum for exchanging ideas, best practices, and information vital to the organizational growth and success of women's bar organizations and the legal profession.
Manisha P. Patel earned her Juris Doctor from Elon University School of Law and holds Bachelor's degrees in both economics and history from Virginia Tech. With a focus on family law, Manisha offers compassionate legal counsel and support to family law clients during emotionally stressful transitions and difficult life situations.
The Law Office of Manisha P. Patel, PLLC is a boutique family law firm based in Greensboro, North Carolina.  Our firm focuses on domestic and family law matters, from Guardian ad Litem representation, legal separation through divorce along with other areas of law such as adoptions and domestic contracts. The Law Office of Manisha P. Patel, PLLC brings extensive experience and professionalism to every case and Attorney Patel will customize representation to your individual needs and concerns. For more information, please visit: www.lawofficeofmpp.com.