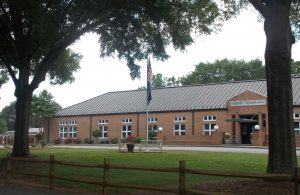 Carlisle School was founded in 1968 by business leaders, educators and professional people in the Martinsville, Virginia area who were interested in providing a community-based school, which combined superior academics with high personal standards. Carlisle embraced the philosophy of offering a rigorous college-preparatory program and encouraging intellectual discipline and creativity, while also fostering the development of character and individual responsibility.
The school opened its doors to 81 students in grades one through seven. Today, Carlisle School continues to provide a first-class academic education for more than 400 students in pre-school through grade 12 from southwestern Virginia and northeastern North Carolina.
In the fall of 2003, Carlisle opened a satellite preschool in Danville, Virginia. Expansion of this facility has occurred gradually, with a new dedicated site being purchased in 2008 to house pre-school through 2nd grade. In 2014, Carlisle leased the shuttered I. W. Taylor Elementary School building and expanded to add 3rd grade, with the intention of growing through the 5th grade.
Accredited in 1974, Carlisle School is a member of the Southern Association of Colleges and Schools, Virginia Association of Independent Schools and the Southern Association of Independent Schools. During our VAIS and SAIS accreditation visit in October 2014, Carlisle was again fully accredited. This achievement reflects the outstanding quality of the education available at Carlisle School.
Over the years, Carlisle School has kept pace with the most rigorous independent schools by continually examining curriculum issues and by seeking talented faculty with advanced degrees from diverse backgrounds. As a logical step in the school's growth, Carlisle administrators, faculty and board of trustees decided to seek admittance to the International Baccalaureate Program. In the summer of 1998, Carlisle received notification that our application to participate in the International Baccalaureate Diploma Program ("IB") was accepted, beginning in September 1999. A program with high academic standards and a strong emphasis on the ideals of international understanding and responsible citizenship, the International Baccalaureate program was in addition to the college-preparatory program we have always offered and provides an option for students who choose to participate.
After several years of outstanding student success with the International Baccalaureate Diploma program, Carlisle administrators, faculty and Board of Trustees decided to seek approval to offer the IB Middle Years Program (MYP). In the summer of 2004, Carlisle School received notification that its application for authorization to provide the Middle Years Program had been approved. Carlisle then became a candidate school and began planning for and implementation of the MYP, and soon after, sought authorization to provide the Primary Years Program (PYP).
In recent years, the faculty and administration gave thought to how they might improve student achievement, and the 2013-14 strategic planning process led the school to consider the IB program as a springboard to a more diverse curriculum. Carlisle graduated its last diploma candidates in 2015 and is working to enhance student offerings, especially in the Middle and Upper Schools.
Carlisle Heads of School
       Gabrielle Roy                                     1968-1969
       Charles Cumiskey                             1969-1980
       James Lipke                                       1980-1983
       Anne Vipperman, Interim             1983-1984
       Dick Hensley                                      1984-1992
       Colin Ferguson                                   1992-2004
       Simon Owen-Williams                      2004-2012
       Dr. Barry Dorsey, Interim                 2012-2013
       Tommy Hudgins                                2013-2018
       Gracie Agnew                                     2018-Present