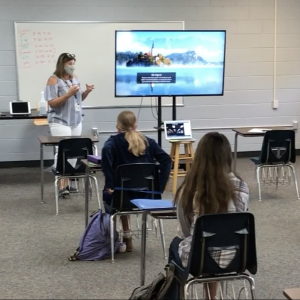 Students in Mrs. Aaron's freshman English class began the school year by studying author Daniel H. Pink, a New York Times bestselling author who specializes in business and human behavior.
In Pink's book Drive: The Surprising Truth About What Motivates Us, he explains that "the secret to high performance and satisfaction in today's world is the deeply human need to direct our own lives, to learn and create new things, and to do better by ourselves and our world." He challenges readers to write one sentence to summarize their lives, asking them what they want to be remembered for. 
After watching the introductory video and participating in a class discussion, Mrs. Aaron's students wrote their personal sentences to present. Please enjoy this presentation and feel free to share your own sentence on our Facebook page. 
---
Continue Learning:
If you are interested in purchasing the book featured in this project, use this link below and Carlisle School will receive a small affiliate commission for each sale. https://amzn.to/2EKZeoF
---
Safety Note:
Proper social distancing was practiced throughout the filming of this presentation. Students wearing masks were seated six-feet apart in one end of a double-length classroom while presenters stood at the other end. Masks were only removed long enough for each student to say their sentence, and the room was properly ventilated with open windows and doors. Learn more about Carlisle School's plan for student and faculty safety, here.