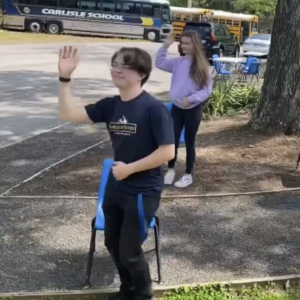 We are in the FINAL week of the MHC Dances for their Cause Contest, and this has been an enjoyable community event to participate in. Our most recent video featuring Carlisle's Faculty and Upper School students launched today, and we ask you to please cast your vote. 
Every LIKE that our videos earn will generate $1 in support from Dr. Jones & DeShon Orthodontics. 
VOTE HERE:
AND HERE:
The money raised benefits Carlisle's Bridgforth Fund for the Arts, and this year that fund is being used to update our stage for future dance, theater, creative movement, choir, and band performances. Under normal circumstances (in a non-pandemic year), EVERY student at Carlisle uses the stage, often multiple times a year, so this is a project that will positively impact our entire student body. 
Pro Tip – If you missed a week, you can still go back and cast your vote. All votes for the entire four-week period count towards our total. Videos for weeks 3 & 4 are posted on two pages, so you can also vote at both locations. 
Here is our Progress So Far:
Week 1: 
124 votes = $124
(VOTE)
Week 2:
 93 votes = $93
(VOTE)
The team with the MOST overall votes earns a $500 bonus from Rudy's Girl Media, so please help us finish the contest strong!