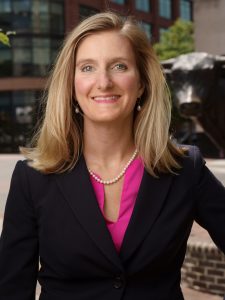 Our Alumni Highlight this month is a Q&A Session with Caroline Lindsey Trautman '00, who was nominated by her classmate and friend Kate Gibson. Caroline grew up in Reidsville, NC and is a 2004 graduate of the University of North Carolina at Chapel Hill's School of Journalism and Mass Communication and a 2007 graduate of the University of South Carolina School of Law. She now lives in Chapell Hill, NC, with her husband Erich and serves as a Partner at Oak City Law.  In her free time, she enjoys cooking, baking, and trying new restaurants with friends and family. Caroline volunteers with the NC Bar Association Pro Bono Committee and You Can Vote, a non-profit that helps people register to vote and learn about voting rights in North Carolina. 
---
Q: How did your Carlisle education help to prepare you for college and career?
Carlisle is where I learned how to study – really study and fully understand what I was learning – and to have the self-discipline required to succeed in college-level coursework. When I started as an eighth-grader at Carlisle, I was a little intimidated by what seemed like large reading assignments. In Linda Gibson's American History class, she emphasized the "preview, read, and highlight" tactic for getting the most out of reading assignments. It seems small, but it took me, and no doubt, my classmates, to the next level as students. Mrs. Gibson is just an incredible teacher whose love for and deep knowledge of history made it impossible not to become engaged. She was brilliant and tough, so her believing that I could succeed was all the more meaningful.
When I arrived at UNC-Chapel Hill as a freshman, although the courses were very demanding, I felt equipped to get through the reading and create a study schedule that would prepare me for finals. Also, in my opinion, my small class at Carlisle was just so full of bright, hard-working students, and keeping up with the others was challenging. I think we inspired each other and kept each other on our toes, and we all benefited from healthy competition in that we were always pushed to go a little further and not just do the bare minimum. So as I entered college and later law school, going the extra mile felt normal.
---
Q: Looking back on your time at Carlisle School, what were the most meaningful experiences that helped shape you as an adult?
I had many wonderful experiences and opportunities at Carlisle. Highlights include studying drama and being part of stage performances, thanks to teachers like Robert Kwalick and Candace Owen-Williams. It got me very engaged in learning about fine arts and how to work with others to put on a stage production and share art with people. An unexpected benefit of acting in plays? Confidence speaking in public as a lawyer.
---
Q: What inspired you to go into your current career, and what is a typical day like? 
A desire to help others inspired me to pursue a career in law. Journalism was my college major. While I loved writing and investigating, it seemed to me at the time that working as an attorney might be a more appropriate outlet for advocating for others. I practice civil law and construction law specifically. Many of my clients are small business owners like masonry contractors and home builders who take a great deal of pride in their work. I also represent homeowners and people with property damage claims. Sometimes I help people with simple things, like not getting paid for their construction work. Other times, things get more complex – once, a client suffered massive damage to his property, a historic building, when developers built a large hotel next door. I had to learn all about pile-driving and the measures you're supposed to take to prevent accidents and property damage. One of the things I love about law is that it changes and that it involves learning about new topics. A typical day includes talking and texting with clients, questioning witnesses in depositions, and discussing ideas with my law partners over sandwiches at Lucky's Deli.
---
Q: What college advice would you like to share with the class of 2020?
Don't be afraid of classes and activities that challenge your own perspectives and views of the world, whatever they may be, and try to get to know people who are different from you. College can be a unique opportunity to do this because eventually, most of us end up living and working with people who are pretty similar to us.
---
If you would like to be featured in an upcoming Alumni Highlight, please visit our alumni page.