Join Our Family 
Carlisle School is currently enrolling new families in Pre-K3 through 12th grades. 
Contact us to schedule your personal tour to see our 25-acre campus and discover more about the programs offered for your child. In-person and virtual tours are both provided, depending on your preference. Spaces are limited!
We Offer
Safe, Secure, Nurturing Environment
Highly Personalized Instruction
Focus on Academic and Creative Potential
College Preparatory Curriculum
Designated AP Capstone School
Skilled Practitioners of Distance Learning
100% College Acceptance Rate
Regional Bus Service Available
Learn More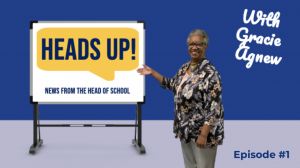 When school opens on August 24th, there will be protocols in place to keep our students, faculty, and staff healthy and safe from the virus. Mrs. Agnew is releasing a new weekly video series called "Heads Up – News from the Head of School." The series will inform parents and students about changes they will see on campus this fall to help everyone prepare for a safe, healthy, and FUN return to school. 
Click to see our Virtual Tour Playlist
---