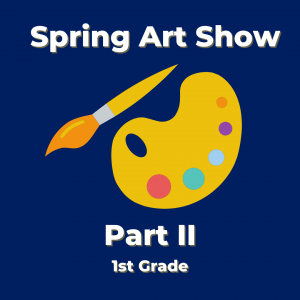 This month we are celebrating the arts at Carlisle with a virtual art show. Part II of the show features selected works by students in the 1st grade, created under the direction of lower school art instructor Sherry Moschler. Please enjoy the show and check back throughout the month for more galleries.
In case you missed it, here is the link to Part I. 
About Carlisle School's Art Program
1st Grade 
Georgia O'Keeffe Watercolor Flowers – As part of an art history lesson, students learned about Georgia O'Keeffe (1887-1986), an American artist known for large  paintings of flowers and is recognized as the "Mother of American modernism." In the lesson, students practiced using watercolors while learning about color and shape in modern art. 
---
Abstract Turkeys – Students learned about abstract art and the use of pattern, color, and shape. 
---
Line of Symmetry Creatures – Students learned about symmetry, shape, and color while creating some abstract art. 
---
Carlisle School is now enrolling for the 2021-2022 academic year. Learn more!