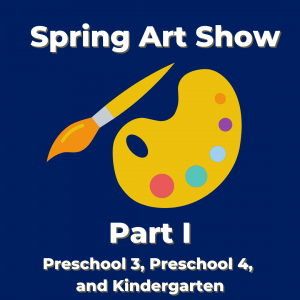 This month we are celebrating the arts at Carlisle with a virtual art show. Part I of the show features selected works by students in preschool 3, preschool 4, and kindergarten. The students created these works under the direction of lower school art instructor Sherry Moschler. Please enjoy the show and check back throughout the month for more galleries. 
About Carlisle School's Art Program
---
Preschool 3
Recycled Packing Pellet Sculptures – Students used upcycled packing pellets to construct 3-dimensional sculptures. 
Claude Monet Water Lily Pond – As part of an Art History lesson, students learned about Claude Monet (1840-1926), a French painter who founded the style of French impressionist painting.  The students used paints and coffee filters to create 3-dimensional art.
Under the Sea Color Diffusing Art – Students learned about color mixing and the use of shapes. They mixed colors to create aquatic life and traced their hands to create a coral reef. 
---
Preschool 4 
Color Diffusing Moth Nighttime Landscapes – Students learned about mixing colors, contrasting colors, and shapes. 
Self Portraits – Students learned what a self-portrait is and how lines, shapes, and colors are used. They also discussed seeing small details that make each person unique and special. 
Kandinsky's Circles – As part of an Art History lesson, students learned about Wassily Kandinsky (1866-1944), a Russian painter and art theorist credited as the pioneer of abstract art. During the lesson, they learned about shape, color, and collaborative art. 
---
Kindergarten
Bottle Cap Art – Students practiced upcycling things that would be trash by incorporating found objects in a work of art. They also studied color and shape.
Spring Vase of Flowers – Students used color diffusing paper and learned to mix colors for this paper collage. 
Native American Teepees – Students learned about Native American Art, Native American Pictographs, shapes, and lines while creating these 3-dimensional sculptures. 
---
Carlisle School is now enrolling for the 2021-2022 academic year. Learn more!