Welcome to the final gallery of Carlisle's Spring Virtual Art Show. If you missed days one, two, three, or four, click the links to catch up. Today we are featuring an artist study by Kindergarten, a culture study by 3rd-grade, a technique study by 4th-grade, and a community exhibition by our Upper School students. Click on each photo to enlarge the image and enjoy!
Vincent van Gogh
Students in Mrs. Moschler's Kindergarten art class studied Dutch artist Vincent van Gogh (1853-1890), who was known for his post-impressionist paintings, and they learned about the technique of Impasto painting where the paint is layered on a surface. The students examined his famous painting "Starry Night" and discussed what makes it so unique. Then they collaborated to create their own version of "Starry Night" using paint and construction paper.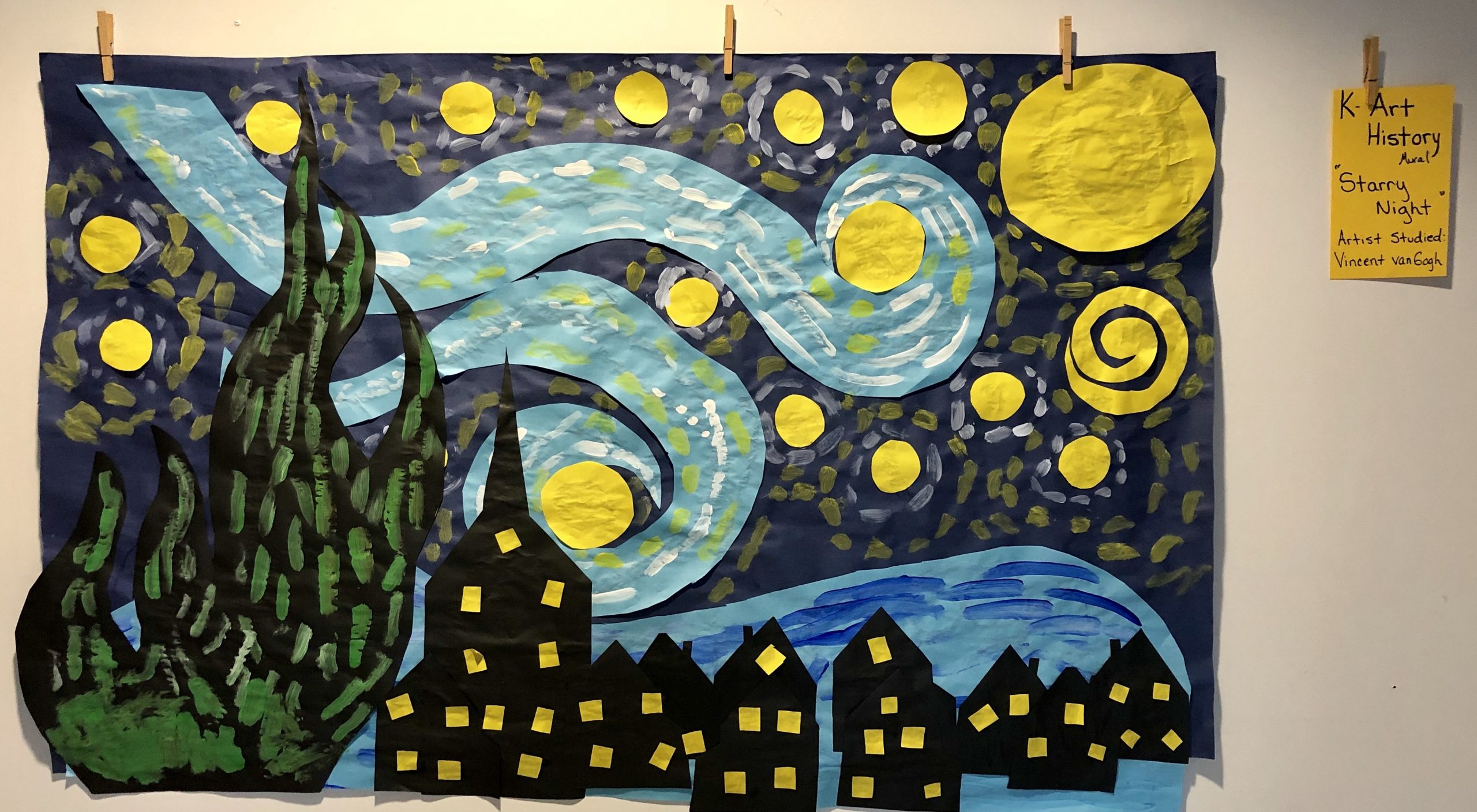 ---
Greek God Masks
In collaboration with their six-week study of Greek Culture with Mrs. Walker and Mrs. Sullivan, 3rd-grade students made masks representing Greek Gods in Mrs. Moschler's STEAM and art classes. They used engineering skills to create a three-dimensional mask form and decorated it to look like their assigned Greek God or Goddess.  
---
Shading and Highlights Study
Our fourth-grade students learned about shading and creating highlights in still life drawings. They observed two three-dimensional geometric shapes each week over the course of three weeks and learned how to draw and shade them to look three-dimensional.  They learned how to use pencils, chalk, and blending tools to create highlights and cast shadows and also learned to use gradation in their art. 
---
Upper School Art Exhibit
Several pieces of art from Mrs. Dashoff's Upper School art class are currently on display at Piedmont Arts Association in Martinsville.
In the first two pieces, students were asked to pick a meaningful quote and integrate it into their artwork.
The next three pieces with hands were projects finished after students learned shading with a pencil.
The next two pieces are exercises in using negative and positive space.
The horse was a project where students were challenged to fill a shape with their favorite things. 
---
Thank you for joining us for Carlisle's Virtual Spring Art Show! 

Return to days one, two, or three, or four.  

Please note: If your child's artwork is not featured in the galleries, they might have been absent or ill on the particular day each group of photos was taken. We want to include all students, so please note that any omissions are not intentional.