This alumni highlight is a guest post written by Katie Ryan Snyder '14. In it, she shares her Carlisle story and advice for Carlisle's class of 2020 seniors.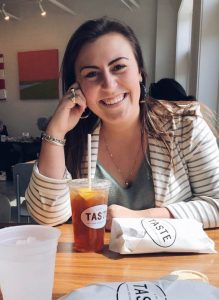 I started at Carlisle in the 4th grade, and I remember it like it was yesterday. Prior to attending, I came to spend a day in the classroom. I remember being absolutely terrified and begged not to go, but my parents insisted. Man am I glad they "forced" me to go because it changed my educational experience for the better. When I arrived for my visit, I was immediately welcomed with open arms and spent the day with Ms. Hill's 3rd-grade class. It was incredible. Here I was, this little 8-year-old, terrified, knowing one, maybe two students, and it was if I had always been there. By the end of the day, it was safe to say I'd be applying, and sure enough, come fall I was in Mrs. Helms's 4th-grade class.
Carlisle was by far the best educational decision I have ever made, and I am so grateful for the faculty/staff who I grew to love during my 9 years there. The classroom setting, family environment, and genuine desire for all students to excel really enabled me to develop not only as a student but as a young woman. Carlisle instilled a confidence in me that I would not have received elsewhere.
Upon graduation, I attended the University of Georgia. I stepped foot onto a campus of roughly 37,000 students, not knowing a soul, but I knew I was ready to take on the challenge. Looking back, I think of how insane it was that I walked onto a campus three times the size of the City of Martinsville, with absolute faith that I could handle it. I know this was because of teachers and faculty like Mrs. Aaron and Mrs. Brightwell, who believed in me every step of the way. My ability to succeed at the University of Georgia was due to the academic preparation I received at Carlisle. I was able to double major in Political Science and International Affairs, with a minor in Religion and a certificate in Global Studies. One thing each of these subjects had in common was lots of writing, reading, and analysis. I noticed as my fellow classmates stressed about assignments, I was comfortable because I had had similar assignments in the past. Whether it was a paper assignment in Mrs. Ford's 6th grade English, forum with Mrs. Gibson in 8th grade, papers in IB English with Mr. Morrison or presentations in IB History with Mrs. Maney, each of these things taught me invaluable skills. Even in upper-level Spanish classes, I found myself using techniques I had learned in Señora Hoy and Señora Thomas's classrooms. All of my academic achievements at UGA were a product of the guidance I received from an early age at Carlisle.
The confidence that was instilled in me not only helped me in the classroom but also spilled into my extracurriculars. I quickly joined organizations like the Student Government Association (SGA) and the Georgia Recruitment Team (GRT). SGA allowed me to advocate for the student body. My newfound passion for advocacy influenced my decision to attend law school. GRT allowed me to recruit and welcome potential new students to campus and show that UGA is the best university in the country – go Dawgs! But, my involvement didn't stop there. I had also joined a sorority, and in my senior year, I served as Chapter President for over 250 women. During that time, I oversaw a $3.5 million renovation of our house. I was 20 years old, making decisions for an organization that was bigger than myself, but I had confidence in my abilities because of the foundation I had received at Carlisle.

After graduating from UGA in 2018, I began school at the University of Richmond School of Law. I am currently in my second (2L) year. My classes continue to be filled with writing, reading, and analysis, but I know that I am succeeding because of my educational preparation and confidence in myself. Last summer, I spent my time interning with Senior United States District Court Judge Jackson L. Kiser, whose chambers are located in Danville, VA. I thoroughly enjoyed my time there, and it solidified my desire to come back to Southwest Virginia to practice law. This summer I will be spending 10 weeks with the United States Attorney's Office in Roanoke, VA. While I am still not set on the area of law in which I wish to practice, my desire to return to our area is driven by my love for our community. Carlisle enabled me to go to UGA, which enabled me to attend Richmond Law. My time there was an integral part of life. We are so fortunate to have a gem like Carlisle in our community.

Katie Ryan's Advice for the class of 2020
Challenge yourself and have confidence in your abilities. If you find yourself fearful or uncomfortable, that's okay. I've found that at times when I've been the most uncomfortable, I've learned the most about myself.