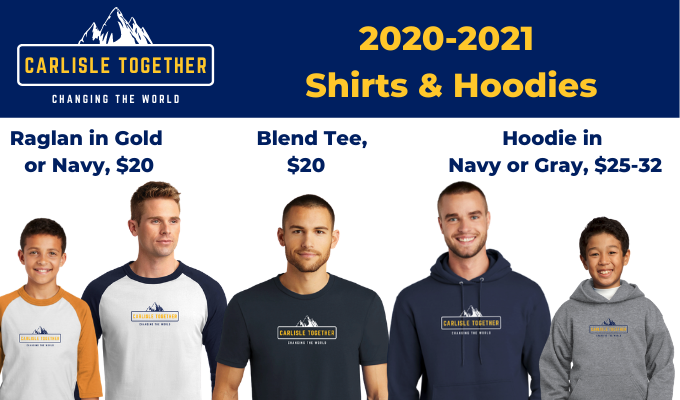 Show Your Chiefs Pride! 
We are now accepting orders online for "Carlisle Together" raglans, tees, and hoodies. They are available in youth and adult sizes. Click the link below to place your order. 
Spirit Wear
The following in-stock items are available in our inventory. Please contact Sandy Bailey at 276-632-7288, ext. 242 to confirm availability/size and order.
Short-Sleeve Swoosh Tee, $10 – Navy YM, Gray AXL
Carlisle Family, $10 – YS, YM
50 Strong Raglan, $10 – YL
Rep Dress Polo, $25
Rugby Shirt, $25 – AM
Lady Chiefs Basketball, $10 – AS
Hat, $15 – S, M, L
Hand Knit Hat, $10
Hand Knit Hat, $10
Hand Knit Hat, $10
Car Magnet, $3
Car Magnet, $3
Drawstring Bag $5
---
Rep Dress
If we do not have your size in stock, Rep Dress and Daily Dress Items may be ordered online through Lands' End. Our Preferred School Number is 900043670 and Carlisle School will receive a small commission from each sale. 
Rep Dress polos are also available from the following approved vendors: