A team of six students from Bassett High School and Carlisle School will soon participate in an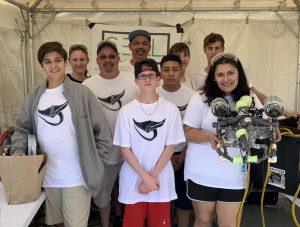 international competition for Underwater Robotics. The MATE (Marine Advanced Technological Education) International ROV (Remotely Operated Vehicle) competition will be held at the Kingsport Aquatic Center in Kingsport, Tennessee on June 20-22, 2019.
Team Dasyatis, named for a genus of Stingray, worked together during the spring semester to design, build, and train on maneuvering a marine ROV under the direction of team coaches David Dillard and Keith Newcomb of Patrick Henry Community College and Christy Richardson of Carlisle School.
The MATE competition challenges K-12, community college, and university students from all over the world to design and build ROVs to tackle missions modeled after scenarios from the ocean workplace.  The MATE competition requires students to think of themselves as "entrepreneurs" and transform their teams into companies that manufacture, market, and sell "products." In addition to engineering their ROVs, the students are required to prepare technical reports, poster displays, and engineering presentations that are delivered to working professionals who serve as competition judges.
At the MATE Appalachian Highlands Regional ROV Competition in April 2019, team Dasyatis won the Engineering Award for best product presentation and placed third overall in the product demonstration challenges. As a result, the team was nominated as a Wild Card entry to be able to compete in the international competition in June. A total of 70 teams will participate, and students will travel from many countries, including Hong Kong, Russia, India, and Egypt.
Team Dasyatis is sponsored by The Eastman Foundation and MHC After 3. The Martinsville-Henry County YMCA has also been an incredible supporter of the team by providing use of their indoor pool for equipment testing and in-water training exercises. According to Pam Foley, YMCA Aquatics Director, "The YMCA has really enjoyed partnering with Carlisle, Bassett, and PHCC to allow the students to test their robots in the pool. Not only has it helped them to excel in their competitions, but we have found it very interesting to watch as well!"
Students participating in the competition for Team Dasyatis are Anika Banerjee, Casey Richardson,
Gabe Richardson, and Andrew Parikh of Carlisle School and Pedro Reyes and Will Dehart of Bassett High School. Banerjee, who serves as CEO and CFO for the team, said, "I am immensely appreciative that our team, Dasyatis, has received the opportunity to compete internationally our first year of competition. Regionals were nerve-wracking and our collaboration under pressure earned us third place, as well as an engineering award. We now know what to expect, and I couldn't be more proud of our team and its accomplishments."
Team Dasyatis is collecting funds to off-set travel expenses for the upcoming competition, and tax-deductible donations can be made online at CarlisleSchool.org/give.
Related Story: carlisleschool.org/rov/