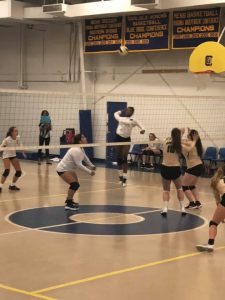 The Carlisle Chiefs volleyball team consists of junior varsity and varsity teams. The season lasts from August through early November and practices and games are held on campus in the Roy Building Gym. 
The volleyball program is growing at Carlisle as the team made the state tournament for the first time in 2018.
View team stats, schedule, and ranking.
Varsity Volleyball Coach: Janika Hunt '10
Born and raised in Martinsville, Coach Hunt graduated from Carlisle School in 2010. While at Carlisle, she played basketball, volleyball, and participated in many other programs/organizations. She received her bachelor's in Accounting and Management from Radford University in 2014. Currently, she is pursuing a MBA/MSL degree from Pfeiffer University, working as a Payments Analyst II at Carter Bank & Trust, and is an Academic Ministry Leader at New Life in Christ Church. This is her first year as the head varsity volleyball coach and she has been an assistant coach for girls varsity basketball since 2014. 

MS/JV Coach: Katie Baker 
Coach Baker is a full-time student studying Occupational Therapy at Radford University Carilion with a minor in Psychology. She is also a manager at Chick-fil-A when not in class. She has played volleyball since the 7th grade and is very excited to teach Carlisle student-athletes about volleyball. 
2019 Varsity Team 
#2 Alyson Gammons – C (Sr)
#21 Daisy Harris – C (Sr) 
#6 Cali Martin (Jr)
#5 Amelia Monroe (Jr)
#7 Rachel Adkins (So)
#17 Anika Banerjee (So)
#3 Mckenzie Hauser (So) 
#18 Amara Harrell (Fr)
Emily Cahill (Fr)

2019 MS/JV Team
#1 Emily Cahill (Fr)
#2 DeAmber Harris (6th)
#12 Rachel Adkins (So)
#16 Mckenzie Hauser (So)
#17 Nevaeh Craighead (8th)
#18 Amara Harrell (So)
#25/10 Demiya Martin (7th)



---
Volleyball Sponsors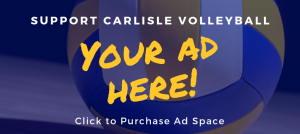 Marquee Sponsors:
Carter Bank & Trust
Sponsorship Opportunities are available to support Chiefs Volleyball. Please contact Athletic Director Melinda Brightwell or the Development Office at 276-632-7288, ext. 231 for information on website advertising, digital marquees, and scoreboard signs. 
---
Team Gallery






Photos by Kim Banerjee & Mancino Craighead