Do you know how to make a peanut butter and jelly sandwich? I'm sure you do, but how effective would you be in instructing someone else how to make one? Our two fifth-grade classes recently discovered how challenging that can be in a group lesson on the importance of providing detailed instructions in written communication.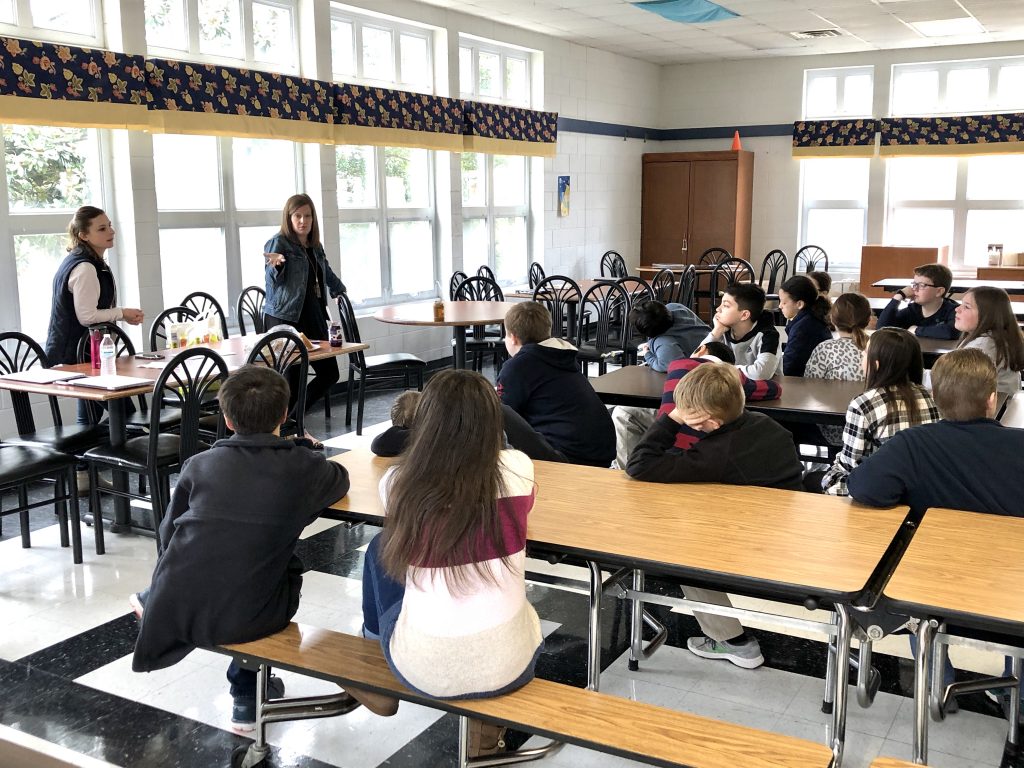 This interactive lesson was presented in preparation for the upcoming Fifth Grade Exposition, a multi-disciplinary project which will incorporate research, design, and presentation skills. Groups of students are designing prototype games, and to accomplish this significant project successfully, they will need the ability to provide clear instructions so that each group's game can be played correctly by consumers. 
In the lesson, each student was challenged to type a detailed set of step-by-step instructions for a person who had never made a peanut butter and jelly sandwich before. The students then formed small groups to conduct a peer review of the instructions and select the best directions from their members to submit. 
In the dining hall, fifth-grade teachers Mrs. Thompson and Miss Penprase, took each set of submitted instructions and attempted to follow the steps exactly as presented. The entertaining outcomes helped the students observe the importance of clear instructions in a fun and humorous way.
When one student's directions stated, "take the bread out of the bag," Mrs. Thompson took out the entire loaf. As the students cried out that she only needed two slices of bread, Mrs. Penprase pointed out that the instructions did not specify how many slices to use. Another set of instructions prompted to "place the sandwich on a stable surface," so Mrs. Thompson looked around for options and then plopped the PB&J on the floor! 
The students were shocked and surprised at many of the outcomes, but the exaggerated actions of this lesson made them realize the importance of clear communication. 
Layton Thomas shared that "as I was watching [Mrs. Thompson] follow the steps I thought, oh, no – that's going to happen, she's really going to throw it on the floor, rather than the table." He added that it showed him how detailed instructions are essential. 
According to Caselyn Alderman, "the most memorable part of the exercise was how Mrs. Thompson looked so serious about it; like it wasn't even funny to her that she was confused about how to make a peanut butter and jelly sandwich." She explained that "you have to give more detailed instructions when you are doing something like that because if someone actually takes your directions seriously, it could end up quite bad."
Hunter Doss explained that he and his classmates are using the lessons learned as they move forward with their Exposition projects. He said, "In the lesson, we failed at opening the peanut butter jar, so for our game, we will give more detailed instructions [for the user]."
The students will spend the next six-weeks researching, designing, building, and testing their projects, in addition to the critical task of writing instructions for the games and planning presentations to market their new games. The public is invited to attend the Fifth Grade Exposition on April 9th at 6:00 p.m. 
---
Flashback:
See what the class of 2026 created at Exposition last year for their "Mission to Mars."