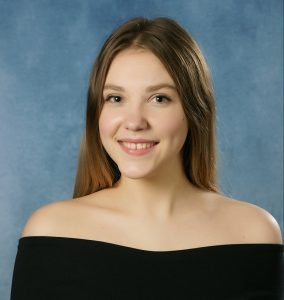 AXTON, VA (March 3, 2021) – Carlisle School is thrilled to announce that senior student Polina Padun has been selected as a finalist to compete this month for a Jefferson Scholarship to attend the University of Virginia.
Padun is an international student from Krasnodar, Russia, who has attended Carlisle since her sophomore year. She is the daughter of Andrey and Yana Padun of Krasnodar, Russia, and resides with her grandmother Luba Tounik of Martinsville.
In her time at Carlisle, Padun has been actively involved in extracurricular activities such as Interact, CHILL (Communities Helping Improve Local Lives), and the production crew for our virtual Grandparents Day program this past fall. She has also participated in Carlisle's Mentoring program serving as a role model for younger students. In addition to being a Jefferson Scholar finalist, Padun has been accepted into Pace University, Suffolk University, and the University of Tampa. 
The Jefferson Scholars Foundation has hosted the Jefferson Scholarship Program since 1980. If selected for the honor, the awardees receive funding intended to cover the entire cost of attendance for four years at the University of Virginia, plus coverage of supplemental enrichment experiences and a stipend. The total scholarship award is valued at more than $190,000. 
According to the Foundation's website, more than 2,000 candidates from 41 US states and 42 countries were nominated in 2019. Students are then placed into regional competitions, which determine 120 finalists to compete for the Scholarships. At the 2019-2020 event, 32 Scholarships were awarded out of the pool of 2,000 candidates. 
Since the program began, Carlisle School has produced four Jefferson Scholars. They include Michelle Unterbrink- 2004, Manas Nigam- 2007, Anne Pryor Gravely- 2013, and Caleb Tisdale- 2017. An additional six students from Carlisle have been named finalists during that time. Padun will attend the finals for the  Jefferson Scholar Competition in March, and we wish her the best of luck. 
According to Carlisle School's College Counselor, Susan Aaron, "Polina Padun is one of the most exceptional students I have encountered in my teaching career. Traveling from Russia to live with a host family, Polina came to a small Southside Virginia town, Axton, to experience an American education with a severely limited English vocabulary. Additionally, she had to continue her education in Russia on-line in her sophomore year at Carlisle to finish her Russian schooling. Undeterred, Polina demonstrated diligence, independence, integrity, and determination in learning the language quickly to succeed in class and socially." She added, "In recent years, Polina's personality has blossomed as she began to thrive at Carlisle and develop her leadership qualities. Courageous and independent yet kind and considerate, Polina became an involved student in every aspect of Carlisle School."
Carlisle is currently enrolling new students. Flexible tuition rates are available for the 2021-2022 school year, and Carlisle will host a virtual Open House on March 25th at 7:00 pm. Interested families can visit CarlisleSchool.org/tour to request additional information.