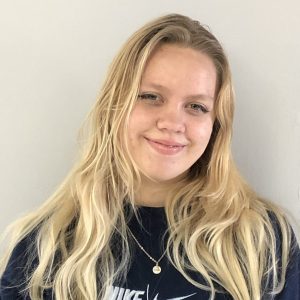 AXTON, VA (May 5, 2021) – This summer, Rachel Adkins, a rising senior at Carlisle School, will join outstanding high school students from across the nation to participate in The National Youth Leadership Forum (NYLF): Engineering. The forum, a unique academic, and career-oriented development experience, will take place this summer on the campus of Georgia Tech in Atlanta, GA.
Rachel is the daughter of Liane Adkins of Spencer and the late Jerry F. Adkins. She has attended Carlisle since kindergarten and has a strong academic record. Rachel, who is currently taking Advanced Placement (AP) classes, has placed twice in the Piedmont Area Reading Council Young Writer's Contest and was named Citizen of the Year in the 9th grade. She will serve as a Junior Marshal at commencement this year, an academic honor reserved for the top eight juniors at Carlisle School.
A well-rounded student, Rachel participates in various sports and extra-curricular activities at Carlisle, including volleyball, basketball, soccer, and Choir Club. She is a member of the Robotics Team, which won the Engineering Award for best product presentation at a recent ROV Competition. Rachel is a member of the mentoring program, where she serves as a mentor and role model for lower-division students. Outside of school, she gives back to her community by volunteering at the Hands of God Community Clothes Closet and Food Pantry.
According to Rachel, "I believe that NYLF will allow me to advance my skills in engineering, scientific analysis, and similar areas, providing me with future opportunities in the field. I look forward to meeting some inspiring people along the way who will provide me with resources to continue on my current career path in the sciences. I hope to finish the camp with some new friends, a better understanding of engineering, and the advancement of my academic and creative skills." She added, "I would like to thank my teachers for encouraging me to do my best, and I will try my best to make them proud."
NYLF Engineering is one of the Envision by WorldStrides family of programs that enable students to explore their interests and experience learning beyond the classroom. Amanda Freitag Thomas, SVP for Envision, said, "At the National Youth Leadership Forum: Engineering, students build the confidence and skills needed to excel at college and in the workplace. They learn how to adapt to and communicate in new situations, to new challenges, and with new people, which, given how rapidly the world is changing due to technology and innovation, are essential skills for success."
About Envision by WorldStrides
For over 35 years, Envision by WorldStrides has empowered extraordinary students to become their best selves through programs that enable them to discover their passion, explore a career, and positively impact their world. In 2018, Envision became part of the WorldStrides family. The largest provider of educational travel and experiences in the United States, WorldStrides works with over 50,000 educators each year to help more than 550,000 students see the world—and themselves—in new ways. Additional information can be found at www.envisionexperience.com.