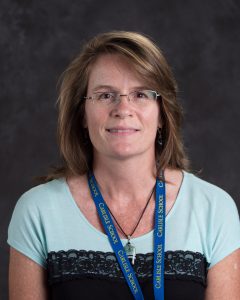 Name:  Christina Tisdale
Title/Courses Taught:  Guidance Counselor/Advisor/Testing Coordinator/Lower and Middle School SCA Sponsor.  I teach guidance classes in grades K-8 and Journalism in Middle School
Year I Started at Carlisle: 1996
Education: Bachelor of Arts, Psychology Major – JMU 1989;  Masters in Counselor Education – UVA 1992
Family:  Travis – Husband, Caleb and Jacob – Sons
Pets: 2 cats – Cheerio and Lucky
Interests/Hobbies:  Reading, Hiking, Scrapbooking
Teaching Approach/Philosophy:  All that we are is the result of what we have thought. – Buddha  We have the power to shape our thoughts to create the life we desire.  
Favorite Part of Teaching:  Young minds, because they are open and curious.
What I Hope My Students Learn:  We all have a personal responsibility to ourselves and the world around us to be healthy, physically and emotionally.