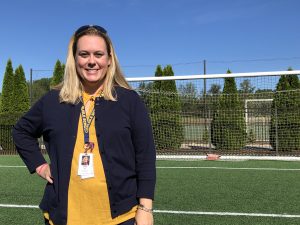 After a month-long search, Head of School Gracie Agnew announced on September 3rd that Melinda East-Brightwell has been appointed as the new Athletic Director for the school. Brightwell who has most recently served as the Registrar for Carlisle and the Upper School Administrative Assistant succeeds Mancino Craighead who held the position for four years. 
Brightwell is the second woman to serve as AD in the school's history, and she will begin her new role officially on September 9. She will continue to serve as School Registrar in addition to this new role as AD.
According to Agnew, "Mrs. Brightwell has been an integral part of Carlisle athletics for a number of years; her business management expertise, demonstrated leadership, her commitment to the development of a successful athletic program that values academic excellence and integrity make her the ideal person to serve as our Director."
Brightwell, who has an MBA from Averett University, has been a member of the Carlisle Family since 2010. She and her husband have three children at Carlisle. They are avid fans of Carlisle athletics, and she has worked very closely with Mancino Craighead over the years to support the athletics program. 
"Athletics are a crucial part of the Carlisle experience, and I love to watch our student-athletes compete," Brightwell said.  "I look forward to working with our athletes, coaches, and administration. I hope to carry on Mancino's dedication to the school and the athletic program by continuing with the amazing foundation he has provided for Carlisle athletics.  I am open to suggestions made by the members of our Carlisle family."
Sponsorship opportunities are available to support Carlisle Chiefs athletics. Contact the Development Office for more details at 276-632-7288, ext. 231 or development@carlisleschool.org.