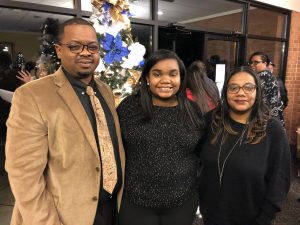 December has been an emotional month for the family of Carlisle School 8th-grader Nevaeh Craighead. Just one year ago, Nevaeh became ill, and an MRI scan revealed what her father Mancino Craighead called "the worst news we've ever heard." Nevaeh had a life-threatening brain tumor.
The next day she underwent five-and-a-half hours of surgery at Brenner's Children's Hospital to remove the tumor. Following the surgery they dealt with seizures, she lost mobility on the right side of her body, and she lost the ability to speak for several days. It was a difficult time for her family.
Meanwhile, the Carlisle Family rallied around the Craighead's to raise money for immediate expenses such as travel and meals to help Mancino and his wife Takara visit Nevaeh at the hospital. An online fundraiser was also started to help cover medical costs, which were predicted to reach upwards of $500,000. Mancino said, "the Carlisle Family helped us tremendously, and without them, we wouldn't be where we are now."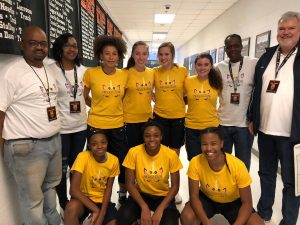 Day-by-day, Nevaeh got stronger, regaining her speech and eventually her mobility.
Over the month, she was moved from the ICU to Intermediate Care, and eventually to a regular hospital room.
Family friend Brian Henderson designed a unique #NevaehStrong shirt for classmates and teammates to wear and show support for their friend. Classmates sent cards and even traveled to visit her at the hospital. 
By January 11, 2019, Nevaeh was able to leave the hospital and transfer to a rehab facility in Charlotte for a few weeks to fully recuperate.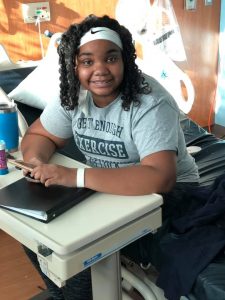 School administrators worked closely with the family to restructure Nevaeh's school work so that she could complete the seventh-grade on schedule.
When Nevaeh returned home, members of the Carlisle Family started a meal train to help the Craighead family get back to its normal life.
Eventually, Nevaeh was cleared by her doctors to return to school, first for a few hours each day as she built up her energy and then resuming her regular schedule. Throughout the spring and summer, Nevaeh returned to her doctors for follow up visits and, by fall 2019, she was given a clean bill of health. 
On the night of this interview, exactly one year from when this loving family received such horrible news, Nevaeh walked confidently up on stage to sing with the Carlisle Middle/Upper School Choir at their Sounds of the Season Winter Concert. It was a touching moment for her mother and father to see the difference a year can make. "I commend Carlisle and everyone for their generosity and support and being there for our family," said Mancino.