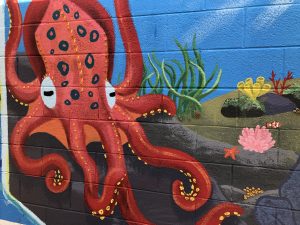 Rising Carlisle senior Madelyn Craddock has brightened up the Peggy Ford Garden at Carlisle School while also bringing awareness to an important environmental cause. 
This year students in Lindsay Favero's Spanish 4/5 class worked on an environmental awareness unit where students spent time reading and interpreting information about environmental topics in Spanish. In the unit, they also learned about the Bow Seat Ocean Awareness contest to explain the effects of climate change through visual art, poetry, prose, music, or film. The contest challenged students to create a piece about a coastal/marine species, place, or system in 2019 that will be threatened, altered, or lost due to climate change and Craddock was immediately interested. 
For her mural, she chose the Giant Pacific octopus, which is the world's largest octopus at 9.75 to 16 feet in size. According to Craddock, "Octopuses have always been one of my favorite animals since I was a kid. They're incredibly fascinating and intelligent creatures, and even from my earliest designs, an octopus was always present."
Craddock was inspired to create this particular design after seeing a picture of an octopus living in a plastic cup. She explained that because the octopus is the focal point of the design, the other fish had to complement it and still provide a color balance to the entire mural. For example, the Royal Blue tang is where it is to maintain a balance between blue, red, and yellow.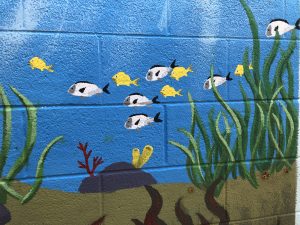 She sketched out a draft and with Carlisle School's permission, the mural project took shape and Craddock began working diligently to complete her submission. She noted, "It was important to me that the sketch wasn't super detailed so that I had room for spontaneity." Craddock began painting on May 31 and spent seven days working on the mural which was completed on June 13. In addition to painting the mural, she applied glass gems to the surface to reflect light and add dimension to the work. 
Submissions for the Bow Seat Ocean Awareness Contest closed on June 17th and winners will be announced in January 2020. Scholarship awards ranging from $100 – $1,500 will be presented to winners in each category.  
Craddock hopes that the mural "will inspire people to be conscientious about the things they throw away, and what they can do just in their own household to improve the situation with the pollution of the ocean.  I'm also hoping to inspire people to find ways to express themselves through art."