A Carlisle education is an investment in the future. In this series, please join us in celebrating the stories and successes of our alumni.
---
Ginyah Woodson Mullins '05 has always loved writing. After graduating from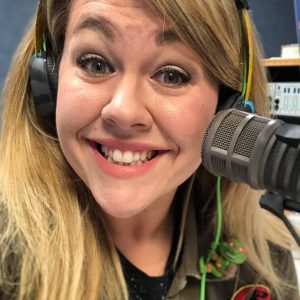 Carlisle School, she attended Averett University and graduated in 2009 with a Bachelors in Journalism/Mass Communication and Minor in English.
Recalling her career path to Piedmont Broadcasting Corporation, she said "I always thought I was destined to write for magazines, but I needed internship credit hours for my degree, and a part-time job at the local radio station was advertised in the paper.  I applied in 2008 and have been working there ever since." The station is 103.3 WAKG/WBTM, and Ginyah (Pronounced "Virginia" without the "Vir") is not only on-air talent but also the Program Director.  She started her career as a girl who sang Opera and didn't like country music but has worked her way up through the ranks learning every detail about every job within the company.
In her current role as Program Director, she is responsible for the behind the scenes tasks that take place at 103.3 WAKG before the station can provide entertainment and information to the public. The job involves approving EVERYTHING that goes on air including the songs, news stories, contest giveaways, and produced jingles. She helps to train and nurture the talent of WAKG's on-air personalities,  manages the station's website and social media accounts, and works closely with the sales staff to create advertising packages and promotions for clients. Her role is the "hub" of knowledge at the station, and it revolves around balancing fun, entertainment, prizes, and information about the community and surrounding areas.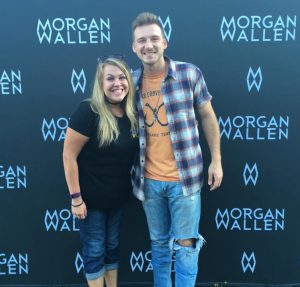 Through her career, Ginyah learned how to turn her "love of written word into an audible version," and the process has enabled her to grow into the best version of herself.  She went from "a girl who used to sit quietly in the back of AP English praying she wouldn't be called on to an on-air personality who can cut on a microphone to talk over 100,000 watts of power spanning Virginia and North Carolina." 
Ginyah explained that "Carlisle helped me with my organizational skills – enhancing my abilities to work ahead and efficiently" which aided with her collegiate experience and has been beneficial in her professional career.
Recalling her education at Carlisle, she said "Mrs. [Peggy] Ford was a God-send.  She helped this once shy and awkward music nerd learn to grow a backbone and gain a voice.  I loved her as a teacher and a friend. I also believe my time in the choir with my fellow Madrigals, and Mrs. [Pam] Randall helped boost my confidence and give me a sense of comradery. Trips for choir competitions were always a blast and really strengthened the bond of the group."
Ginyah's advice for the class of 2019: "Enjoy the experience of college.  I realize you're there for academics, but remember that these are your final moments to enjoy finding yourself, creating your character, building lifelong relationships.  I appreciated my time at Averett University for my degree, but I also found my best friend there.  She's the one person I can tell anything and everything to without fear of judgment. And when you do finish college, don't stress so much about the student loan part (even though they continue to haunt me), but celebrate the fact that you accomplished something huge. You did it. You put in the time and energy to set yourself up on your own path, and that's incredible."
The next time you are driving through Southern Virginia, tune in to 103.3 between 9:00 am – 12:00 pm to listen Ginyah at work. 
Tell us YOUR Carlisle Story – submit alumni information at carlisleschool.org/alumni.