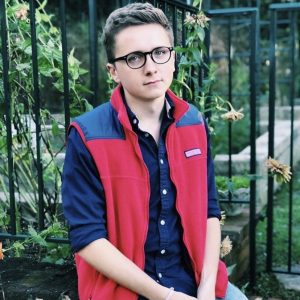 Today we are sharing an Alumni Highlight by Cody Mills '16.  Cody graduated from Carlisle at the top of his class and has continued the same level of academic excellence throughout his time at college. He will graduate from William and Mary this spring as valedictorian with degrees in Government and Gender, Sexuality, and Women's Studies. In this guest post, Cody tells about his Carlisle experience and shares advice with our class of 2020. 
Being at Carlisle meant that I was expected to engage critically with course material in a way that went beyond simple memorization. In my English classes, I was challenged with literature that made me analyze complicated structures in society, such as politics, gender, class, and race. I was expected to contribute to class discussion with meaningful insight while also being given room to make mistakes. There were several times throughout this process that I found myself questioning my beliefs and restructuring my viewpoints. This ability to rethink and restructure my gaze of the world around me has been crucial to my success at William and Mary as well as my desire to pursue a major in gender, sexuality, and women's studies.
In my Carlisle history classes, I was taught to utilize the past to infer or understand the future and contextualize the present. Particularly, AP European History challenged me to handle a tense course load that required more than just remembering dates and European rulers but expected me to apply the political, economic, and moral situations of the French Revolution to the political uprisings of the 21st century.
This analytical mindset has made all the difference in my ability to succeed as a government major. It also helped with my experience as an intern for the U.S. House of Representatives in which I was expected to analyze historical documents (perhaps not as far back as the French revolution) for the sake of making conclusions and policy assessments in the present.
The primary college advice I would share with the class of 2020 is following your gut reactions to the various schools to which you apply. I had a really tough time deciding between a few schools, and at the end of the day, I realized I was trying to force another school on myself because of my own idea about what that school meant. You should always consider academic factors beyond a gut reaction, but you, and no one else, know best where you will be happiest. Following my gut landed me at the school where I've had the happiest and most rewarding four years of my life, and I'm sure it will provide the same for you!
---
If you would like to be featured in an upcoming Alumni Highlight, please visit our alumni page.