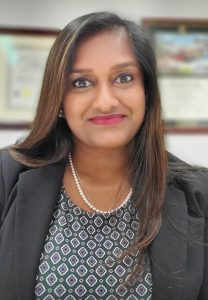 Family law attorney Manisha P. Patel '04 was sworn into the Board of Directors for the National Conference of Women's Bar Associations (NCWBA) on Friday, August 6, 2021. NCWBA is a non-profit affiliate of the American Bar Association (ABA) with a vote in the ABA House of Delegates, dedicated to serving the needs of women's bar associations and their members. Representation in the ABA House of Delegates adds to the voice of women lawyers to the debate and vote on many key ABA resolutions. Member organizations, like the North Carolina Association of Women Attorneys, are women's bar associations whose missions include focusing on the needs of women in the legal profession and furthering women's rights under the law. 
NCWBA's Annual Leadership Summit began on Thursday, August 5, 2021, and will continue through August 12, 2021, coinciding with the ABA's 2021 Annual Meeting. To learn more about the NCWBA and the Annual Leadership Summit, information can be found at www.ncwba.org. 
"I am honored to serve in this national leadership role and to represent women attorneys of North Carolina," says Patel.  "I hope to use this national forum for exchanging ideas with leaders across the country, information vital to organizational growth, and success in today's profession." Patel is currently the Immediate Past-President of the North Carolina Association of Women Attorneys after two terms as President in 2019 and in 2020. Patel also serves on the Board of Directors for Legal Aid of North Carolina, the North Carolina Advocates for Justice, and the Greensboro Bar Association.
Manisha P. Patel earned her Juris Doctor from Elon University School of Law and holds Bachelor's degrees in both economics and history from Virginia Tech. With a focus on family law, Patel opened her law firm in November 2018. She offers compassionate legal counsel and support to clients during emotionally stressful transitions and difficult life situations.  The Law Office of Manisha P. Patel, PLLC is a boutique family law firm based in Greensboro, North Carolina.  Her firm focuses on domestic and family law matters, from collaborative family law to separation through divorce along with other areas of law such as adoptions and domestic contracts. The Law Office of Manisha P. Patel, PLLC brings experience and professionalism to every case and will customize representation to individual needs and concerns. For more information, please visit: www.lawofficeofmpp.com.