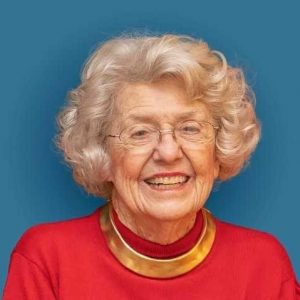 It is with great sadness that we share news of the loss of Katherine Bridgforth Hooker (1926-2021), known to those around her as "Kitty Sue."  She was a grandmother and a great-grandmother to two generations of Carlisle students. A longtime Carlisle supporter who has helped advance the school over the years, Kitty Sue provided support to renovate campus buildings and co-founded the Hooker-Garrett Award for Academic Excellence, an endowment to support professional development for Lower School faculty members. 
We encourage the Carlisle Family to share memories of Kitty Sue. Please email your statement to development@carlisleschool.org to be included on the tribute wall below. 
"Carlisle School will forever be grateful to Mrs. Kitty Sue who believed in and passionately supported our institute of learning." – Gracie Agnew, Head of School
Gifts in Memory of Kitty Sue
Allyson Campbell
Dean & Mary Lewis Johnston
Sue Lester
Anne Vipperman & Eugene Madonia
Beverly Webb
---
Obituary from Dignity Memorial
Kitty Sue Hooker, 94, of Plantation Road, Martinsville, died Saturday, January 2, 2021, from Covid 19.
She was born March 25, 1926, in Kenbridge, Virginia, to Austin Seay Bridgforth Jr. and Katherine Allen Bridgforth. In addition to her parents, she was preceded in death by her husband, John Clyde Hooker Jr.
She graduated from Kenbridge High School and State Teacher's College (now Longwood University). As a new teacher, she moved to Martinsville, Virginia. She met Clyde Hooker, and they married in 1950.
She had been an active member of the First United Methodist Church, serving in the Wesley Guild. She enjoyed arranging flowers and helped with the sanctuary flowers for many years.
Her main passion was playing golf with friends. She started each spring, striving to be the club champion. She won the Forest Park Championship in 1963, the Chatmoss Country Club Championship in 1961 and 1971. She was the Henry County Women's Golf Champion in 1964. Her golf friendships were a big part of her life.
She loved fashion and considered personal presentation a must. She had regular weekly appointments with her hairstylist, and many friendships blossomed over the years.
Surviving is her daughter Katherine Boaz (Allen) of Montvale, Virginia. She also leaves behind her grandchildren Phil (Karen) Garrett, Katie Garrett, and Pres (Olivia) Garrett, all of Martinsville, a step-grandson Jamison Boaz of California; three great-grandchildren Webb, Maxine, and Katherine Nell Garrett; and a brother Austin Seay Bridgforth III of Baton Rouge, Louisiana.
The family would like to thank dear friends Elizabeth Millner, Lorrie Teegen, Jim Warren, Carolyn Holland, and her niece Jane Thomasson for their love and support. The family could not have done without the true love and comfort that Carol Belcher provided for Kitty Sue. Carol brightened Kitty Sue's final years.
Due to Covid 19 restrictions, a private graveside service will be held at Oakwood Cemetery.
In lieu of flowers, the family requests memorials be made to the First United Methodist Church, 146 East Main St., Martinsville, Virginia 24112 or to a charity of the donor's choice.
Collins-McKee-Stone Funeral Home in Martinsville is handling the arrangements.