A Carlisle education is an investment in the future. In this series, please join us in celebrating the successes of our alumni.
Carlisle alumna Mary Helen (Prince) Johnston uses her education to stand up for the rights of North Carolina citizens each day by serving as a State prosecutor and Assistant District Attorney. 
Upon graduating from Carlisle School in 2004, Mary Helen attended Wake Forest University and studied abroad in Barcelona, Spain for a semester. She felt that she was very prepared for college, stating that "Carlisle helped shape me into becoming a strong writer. While I have always enjoyed writing, I was so thankful for my educational background while at Wake Forest when I was tasked with writing a big paper." Early on in college, she realized that she had written more papers in high school than some of her college classmates had. This life experience helped her to be more confident in writing-intensive courses. 
While at Wake Forest, Mary Helen minored in Art History. She also took quite a few art history classes while studying abroad in Barcelona. She explained, "My love for art history really began in my 7th-grade history class with Linda Gibson. That is a class I look back on with so many fond memories which I will never forget." Her foreign language courses at Carlisle School, which she cultivated further in studies at Wake Forest and Barcelona Spain, also made a lasting impact. She added, "I still use my Spanish some today in Court. Gracias Senoras Tomas y Hoy!" 
After graduating from Wake Forest in 2008, Mary Helen went to law school at Campbell University School of Law in Raleigh. She was inspired to go into the legal field because "Law school seemed to combine many things that I loved and enjoyed — writing and public speaking. I have always loved to write, and effective writing is important in the law for written advocacy assists in making the best possible case to the Court." Mary Helen has been a licensed and practicing attorney since 2012 where she began her practice as a lawyer doing civil work with a law firm in Raleigh. 
Mary Helen is now a State prosecutor and the Assistant District Attorney for Greenville, North Carolina. She started her job at the bottom of the office totem pole, but still with a professional responsibility to maintain as a practicing lawyer. With hard work and determination over the last six years, she has now been entrusted to handle high-level felony jury trials and has assisted in numerous murder trials. 
As a prosecuting attorney, Mary Helen is tasked with handling criminal cases in a courtroom before a sitting judge and arguing criminal cases before a jury in trials. She interacts with lots of different attorneys and members of the public in her job, which she finds exciting and fulfilling. She noted that her favorite part of the job is talking to and advocating to juries in a courtroom. "In our democracy, the right to trial by a jury was guaranteed by the Bill of Rights. As a lawyer, there is no greater honor than making a case to a jury of citizens to render a verdict."
Mary Helen's college advice for the class of 2020 is to "get involved in your school and don't be just a bystander! Make the most of your four years because they will fly by and you won't regret the activities you got involved in, you will regret those that you passed over."  
Mary Helen is the daughter of Lauren Prince and the late Dan Prince. She met her husband, Ike, while studying at Campbell Law School, and he is a practicing attorney as well. Mary Helen and Ike reside in Greenville, North Carolina, with their two children Andrew (3.5) and Grace (19 mo).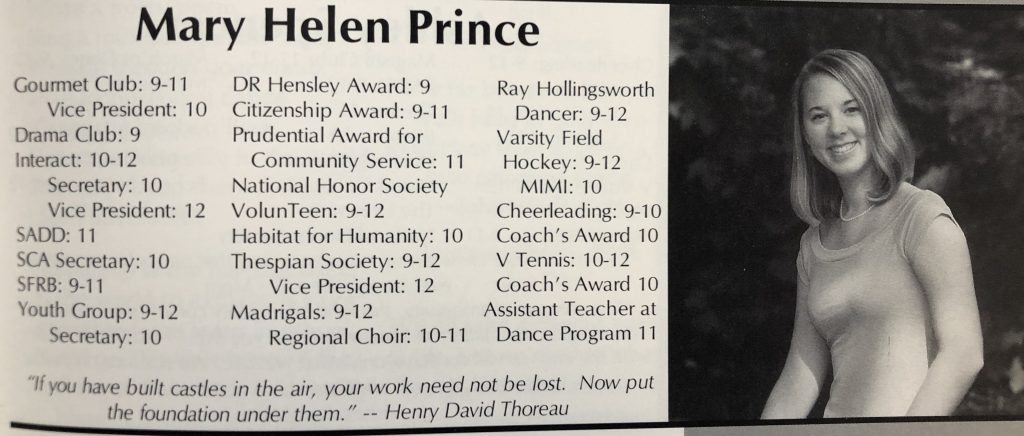 Share the News – Do YOU have some exciting college, career, or family news to share? We'd love to hear about it! Visit our Alumni Page or email Development@CarlisleSchool.org to tell us. Be sure also to join our Alumni Directory so that you can become a networking resource for fellow alumni.