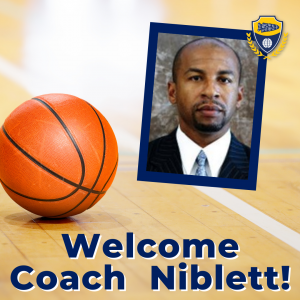 AXTON, VA (November 15, 2021) – Carlisle School is proud to welcome Jason Niblett as the Head Varsity Girls' Basketball Coach. He has an outstanding record of wins in the sport, 436-103 as a head boys' basketball coach. Niblett has coached teams such as Heat Academy to national rankings of third and fourth in the country.  Niblett took over the boys' basketball program at Carlisle School in 2012. In his first year, he led the team to a 23-2 record. Niblett played a National schedule while at Carlisle playing against some of the Powerhouse National programs. He took Carlisle to four straight final fours in the Virginia Private School league tournament and won the State Championship in 2014 while being Nationally ranked during the season. Niblett was named Coach of the year in 2016. In addition, the boys' basketball team held the highest GPAs for two consecutive years in the sports programs. He has been a trendsetter and positive influence for 53 students enabling them to gain access to a free education while achieving their dreams of playing the sport they love.  He had forty-four (44) Division I and nine (9) Division II players to move on to the collegiate level. Niblett has coached the number one and number eight ranked players in the country and numerous top one hundred ranked players.  
Jason Niblett comes with lots of experience as a player and coach. He has coached on all levels except for the NBA. However, he has coached players in the NBA and had the honor of coaching under Tim Floyd former NBA Head Coach of the Chicago Bulls and New Orleans Pelican's while an assistant coach at University of Texas at El Paso (UTEP) in Conference USA. 
Niblett played collegiately at East Tennessee State University where he led the Buccaneers to a Conference Championship in 1992. He also lead his team to a NCAA berth and a win over Arizona in the first round. ETSU would then face the Fab Five in the second round where ETSU lost 102-90. Jason was an All-Conference Selection.
Jason Niblett played for (NBA) Sacramento Kings Summer League team. Afterwards, he continued his professional career in the countries of Switzerland and France. Niblett was selected to the All-Star Team while playing.
We are so happy to have Coach Niblett back at Carlisle School!