For 17 Carlisle students, new classes, schedules, and teachers are just a small part of the transition back to school. Add to that a new country, speaking a new language and living with new families, and the transition becomes a bit more challenging. For nearly 14 years, Carlisle School has been welcoming students from around the world as part of its International Program. Students are either paired with host families or placed in student houses where they live as a family.
Lindsay Favero, Upper School Director and International Program Coordinator at Carlisle School, has been helping facilitate the program since 2017. She explained that most students choose to attend school in America to gain access to colleges and universities.
She explained that Carlisle works with various agencies overseas that present candidates who are interested in attending Carlisle. 
History of the program
The program formally began in 2005 as a Hosting Program with three students, two from Japan and one from Korea. In just a year, the number of international students more than doubled to eight.
Growing interest in the program, coupled with the added difficulty of finding host families for every student, warranted the school's acquisition of a home to serve as an International Student House. In 2007, the boy's student house welcomed its first residents, increasing the number of international students to 19. 
Due to the success of the boys' student house, a girls' student house was opened two years later in 2009, helping the total number of international students reach 33.
In the past 13 years, students have come from Germany, Italy, Romania, Yemen, Uganda, Nigeria, Columbia, Australia, China, Japan, and India. They are granted F-1 Student Visas to enter and remain in the United States for education and are required to pass a TOEFL test, or the Test of English as a Foreign Language, as part of the application process.
On average, students enter the International Program at the start of their 10th or 11th-grade year and remain at Carlisle until graduation. Roughly ten students graduate from the International Program each year and typically enter a four-year American university.
A day in the life
This year's International Program includes 17 students from Australia, Brazil, China, Ecuador, Russia, and Spain. Ten of the students are paired with local host families and live their lives as would any American student. The other seven (all boys) are living in the International Student House.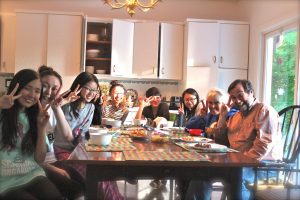 Jim Heffinger, Director of Residence at Carlisle, has worked with the program from its conception. "It's not a frat house, not an open dorm," he said. "It's a home, and we do function as a family."
The students start their day with breakfast provided in the house and are expected to make their beds and tidy their rooms before leaving for school. The student houses are essentially closed from that point until 5:00 p.m.
Sports, theater, dance, and other extracurricular activities are open to all students. Try-outs and auditions are not a part of the process, so those who have never held a field hockey stick or never performed on stage are encouraged to get involved. Carlisle also has a partnership with the local YMCA where students can spend time after school swimming, working out, playing basketball or even just working on their homework.
Once the student houses re-open at 5:00, students return to do homework, make calls home, open care packages from their families, do laundry or spend time with each other. Dinner is served every night at the house. After dinner, there is a mandatory study hall from 8:00-10:00 p.m., and at 11:00 p.m. a lights-out policy goes into effect.
On the weekends, the student houses take advantage of all the area has to offer. They will see movies, go on shopping trips out of town, attend concerts, and visit different county fairs, events, and seasonal offerings like corn mazes.
Rules in the house are pretty much the same as in any household, with the added rule of "English Only" being strictly enforced. "All of the students are proficient in written English, but conversational English…not so much," he said, adding with a laugh "especially with a Southern accent."
While the first few weeks of the school year can be a hard transition for some, Heffinger said, the students who tend to enjoy their time here the most are the ones who take advantage of what is offered. "Carlisle is an academic school, a college-prep school. To make good grades here is cool," he said. "But we are trying to get the international students to relax, have some fun and not just study."
To be a Carlisle student is to be well-rounded, in the sense that you not only have good grades but you're involved in extracurricular activities, whether those are sports, theater, student council, or even volunteer work. The auxiliary house parents strongly encourage international students to become part of the Carlisle family by getting involved and immersing themselves in every opportunity.
Heffinger said that "if they will become a true Carlisle student and venture out, you will see them blossom into busy, happy young adults."