June 19, 2019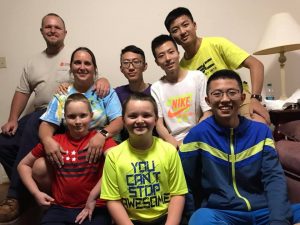 Dear Carlisle family and friends,
We are excited to announce that we are hosting students again this summer from Shijiazhuang No. I High School. We look forward to providing a 3-day activity schedule, including cultural and recreational experiences in the surrounding area for these students and their teachers during July 21-25, 2019.
Host families will be paid a stipend of $150.00 per student. It is preferred for the students and teachers to be in groups of two or four whenever possible.  
Visiting students will be picked up by host families at Carlisle School on Sunday, July 21, 2019.  The visiting group will participate in activities with Carlisle faculty and students from July 22-24, 2019.  On Thursday, July 25, 2019, host families will bring students back to Carlisle School for departure. More details about pick up and drop off will be provided at a later date.
Mrs. Rikky Mu is the International Coordinator from Roanoke, Virginia. Her company, Global Placement Strategies LLC, is sponsoring this camp program. 
If you are interested in being part of this global partnership and experience, please contact Sandy Bailey (sbailey@carlisleschool.org) or Rikky Mu (starusa2012@gmail.com).
Sincerely,
Sandy Bailey
Admissions Officer