During the Carlisle School 2019 Grandparents & Special Guests Day, everyone had a wonderful time. Nearly 300 visitors came to see our students perform on stage and visit the classrooms. While on campus, the guests took family photos, enjoyed a delicious reception hosted by Carlisle parents, visited the Scholastic Book Fair, and learned about unique school programs. Click to watch our welcome video! 



A highlight of the day was Carlisle's new STEAM Lab for lower and middle school students. Guests to this space came for a tour but became completely immersed as they constructed projects on the LEGO Wall, created crafts from recycled products, and tinkered with the marble runs. Everyone, regardless of age, was a kid again as they enjoyed exploring this space together! Carlisle is currently raising funds and applying for grants to help develop a similar learning space in the Upper School. 



Guests visited the Middle School, where they saw samples of student projects ranging from cell and atom structure models to writing projects and vision boards. In the Upper School, guests learned about Carlisle's College Counseling program, Mentoring, Zip Zap Zop Performance Group, the MATE ROV Underwater Robotics Team, and other student-led clubs.



Throughout the day, a special fundraiser was conducted to kickstart Carlisle's Annual Fund Drive for grandparents and special guests. Click to watch an informative video that was shown during each performance.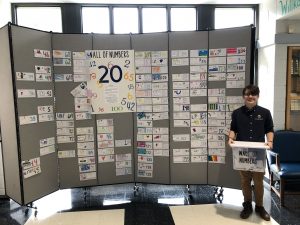 During the event, The Wall of Numbers fundraiser generated more than $9,500 in support of Carlisle School's programs, and grandparents who were not in attendance, or have not yet donated can still participate.

UPDATE: As of 11/5, this fundraiser has now generated more than $11,000! 
The remaining envelopes will be on display in Walker-Pannill Hall through November 1st, and alternatively, donors may give online at https://CarlisleSchool.org/give.
There was much love on our campus during this special day as we celebrated the Carlisle Family. Special thank you to the parents and students who volunteered and contributed food for the reception, and to reception coordinators Gayle Thomson and Ashley Davis.