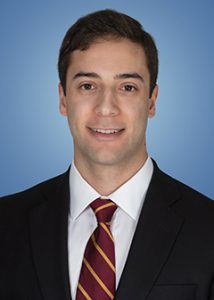 Our Alumni Highlight this month is a Q&A session with Alex Flores. A 2011 Carlisle Graduate, Alex earned his B.A. inChemistry from UNC Chapel Hill, his M.D. from the UNC School of Medicine, and he is currently completing a Residency in Neurosurgery at the Baylor College of Medicine. In his free time, Alex enjoys archery, diving, spearfishing, and snowboarding.
---
Q: How did your Carlisle education help to prepare you for college and career?
Carlisle created an ideal learning environment that coupled high expectations with the opportunities and resources to meet such expectations. These expectations became the standard upon which I held myself in college and medical school. In doing so, I have been able to excel at each level of higher education.
Q: What inspired you to go into your current career?
With regard to medicine in general (i.e. choosing a medical school) I believe generally speaking medicine offers nearly countless opportunities (via various fields to choose from) to give back to the community on both a day to day basis ie short term and in the long term. In the short term, you have the opportunity to directly impact patients through clinical knowledge and expertise. Regarding the long term, medicine offers endless opportunities to get involved in research where small contributions day to day can cumulate into a large, meaningful impact in the future. These short and long term opportunities correlate I believe to short and long term gratification and satisfaction with one's career, which I think is the crux of choosing a path that will make you happy.
Q: Looking back on your time at Carlisle School, what were the most meaningful experiences that helped shape you as an adult?
I think the classes and influencers that come to mind first are the classes taught by Mr. and Mrs. Owen-Williams which included IB English and IB History, respectively. Both pushed me to ask that one extra question beyond my understanding to challenge myself to understand at a deeper level and/or see a perspective from a different angle. I think this approach can and should be applied to essentially every intellectual undertaking in life.
Secondly, I learned a lot playing sports at Carlisle, namely golf and tennis. I was fortunate enough to have two consecutive years under Coach Chris Clark. He coached tennis in my junior year when I played tennis, and then he coached golf my senior year when I played golf! Coach Clark was a very competitive and very smart coach. He taught his players how to play smart, be competitive, and not let intra-match emotion topple one's performance. These lessons are very easily translated to my professional career where the pressure can be very high to perform and where mistakes can be very costly to the health of other people.
Q: What college advice would you like to share with the class of 2020?
I would say continuously challenge yourself to open your mind to explore new aspects of life, new routes, new people, new experiences. I think we all naturally have to some extent confined and stereotyped thinking. I think ultimately the most desirable, yet often most evasive, achievement in life is true happiness and deep satisfaction with oneself/life. And I think to achieve this one must drive change in their life, e.g. getting the most out of college! And to drive that change, a change in perspective is often needed. So keep your mind open, even more so be proactive in finding new perspectives because these are often needed to understand yourself and find what makes you happy.
 Q: As a professional, what accomplishments are you most proud of?
Medical school gives you a taste of what it will be like as a practicing physician so I will base the answer on those experiences. As a 3rd year, and even more so as a 4th year, students are given a lot of responsibility for patients where not unoften patients see more of us than the residents/attendings! Because of this, we get a lot of opportunities to learn about the patients, to get a glimpse into their lives and how their illness affects it. This results in a greater understanding of the impact we as medical providers may have on them. My most proud accomplishments to date are the myriad of opportunities I've had so far where I am given the privilege of using my training to have these meaningful impacts on the patients I've served.
---
Did You Know?
Upper School science students at Carlisle occasionally have the opportunity to visit the Liberty University College of Osteopathic Medicine's Cadaver Lab. Dr. Swanson, Professor & Chair of Anatomical Sciences hosted our students in 2019 and encouraged their participation during his anatomy and physiology lessons. What made this trip so unique is that the students were invited to interact with not only human organ specimens but also with two of the human cadaver specimens – an opportunity that very few high school and even undergraduate students get! 
---
Your story could be next! If you would like to be featured in an upcoming Alumni Highlight, please visit our alumni page to sign up. You can also nominate a classmate to be featured as an Alumni Highlight by contacting Development@CarlisleSchool.org.