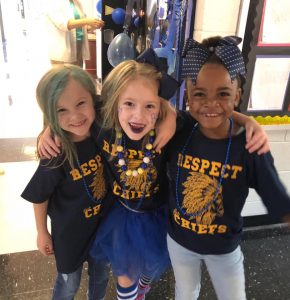 Your student will love the excitement of Homecoming at Carlisle School. The day is full of blue and gold spirit as we celebrate our Carlisle Chiefs Athletics program and recognize the class of 2020. 
In each division, there is a week-long competition where the groups earn points for various things such as dress-up days, competitions, and door decorations.  The spirit stick for each division is won through the accumulation of points.
Upper School and Middle/Lower School students will compete in the annual Gold vs Blue Homecoming Pep Rally dance-off where every student is part of the action! The winning group receives "The Betty Meade Cullinane Spirit Award," also known as "The Betty Meade Cup," and showcases it in their area until the following year.
Gold currently holds the cup, which is inscribed with the following "Is given in memory of Betty Meade's Love of Athletics Her Devotion to Carlisle Students And Her Indomitable Spirit."
This is a noon dismissal day. Be sure to also make plans to attend our Homecoming Tailgate Party and games that night along with the crowning of the 2019 Homecoming Court.  It is a great day to be a Chief!
Check out this video to see how we celebrated in 2018.