Last school year, Carlisle School piloted K-5 enVision Mathematics by Pearson. It is the only math program that combines problem-based learning and visual learning to deepen students' conceptual understanding. enVision is used by classrooms across the country and around the world. After the successful pilot year, the decision was made to fully implement the program at Carlisle School. Faculty and administrators participated in training over the summer. According to Debra Sullivan, a third-grade instructor, "student test scores on their MAP test have greatly improved since the implementation of enVision in the fall of 2018." She added, "students are learning to become problem solvers and how to represent problems visually."
Faculty members received additional professional development this month from Kathy Graham, an Educational Specialist & Certified Cognitive Coach. Graham, who is from Twin Falls, Idaho, has worked for Pearson for the past 18 years and specializes in the enVision Math curriculum.
In addition to providing workshops for the faculty, Graham also offered two informational sessions for parents of K-5th grade students to help them better understand why the new curriculum is being used. 
A total of 27 parents attended the morning session held in Carlisle's Garrett Family Technology Lab, and 14 participated in the afternoon session. Graham was amazed by the lab's dry erase wall. She commented that she travels "all over the nation for training and this is the first time I was allowed to write directly on the walls of a meeting room rather than use expensive pads of chart paper. This is such a fantastic money-saving idea for school districts!"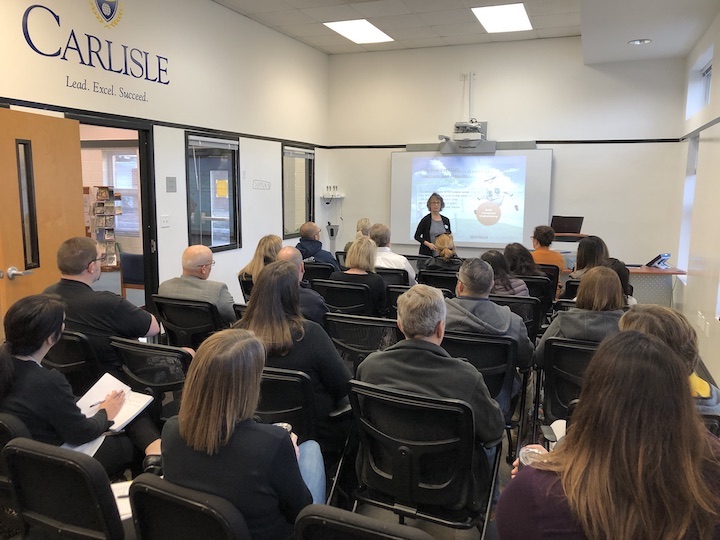 In the workshop for parents, Graham pointed out to them that "things have changed since you and I went to school." She elaborated that "back then, we used to focus on procedural fluency and how to find the solution to a problem. Nowadays, students are challenged to use conceptional understanding to help them with higher-level problem-solving." She indicated that these are skills required for the growing number of STEAM-related careers emerging in the global economy. 
For years, she explained, students have been drilled on basic facts, "3+5=8, so what? What does that mean to the students?"  Students will experience more word problems in assignments to help them to "focus on the concept, and not just the answer."
The new curriculum provides resources that allow teachers to assess students more efficiently and then differentiate appropriately. Because of Carlisle's small class sizes, there is more time for small-group collaboration and instruction with faculty.
Curriculum Flow 
Each day the enVision curriculum provides students with a three-step process to unpack a new concept. 
Step 1: Problem-Based Learning – This system helps students understand the concepts to solve real-world math. Teachers are empowered to provide instructional support that allows students to process and think rather than "spoon-feeding" concepts to them. It is healthy for students to struggle during this step, and they will also work in small groups to practice effective communication while working through the problems. 


Step 2: Visual Learning – When students struggle with a concept, models are introduced in the classroom to help them visualize the problem and have a better understanding. Lesson reminders on worksheets and interactive videos are used as a learning bridge to help students visualize and solve problems. 


Step 3: Assess & Differentiate – In each written activity, the teacher is prompted to assign three specific questions that will help them quickly identify each student's level of comprehension.  enVision math centers on quality over the number of problems, so parents may observe students completing a smaller number of problems that require higher-level thinking for homework rather than pages of drills.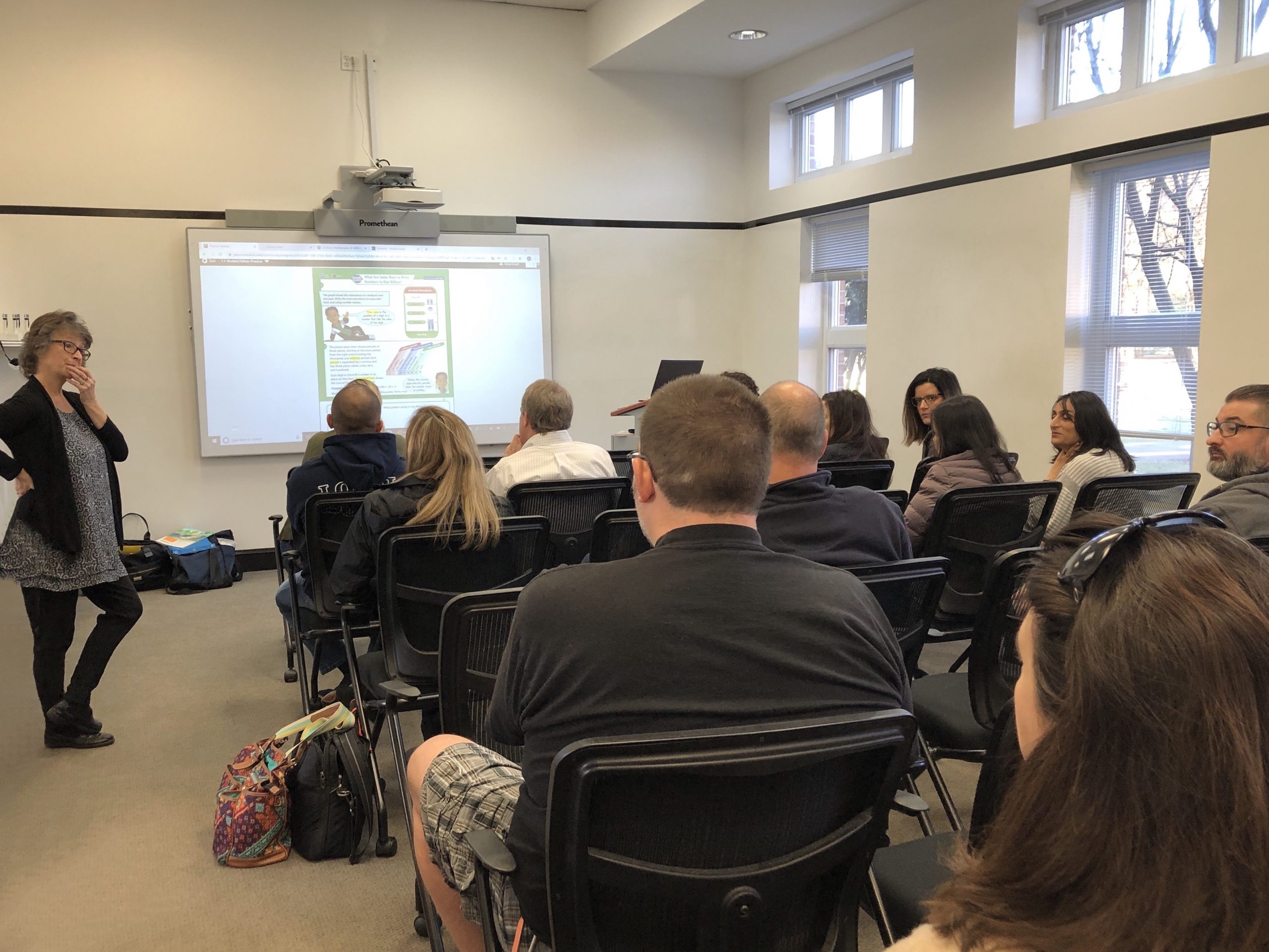 In the meeting, parents expressed concerns about math homework, and Graham addressed that the second wave of training taking place will help address many of their concerns. She pointed out that introducing a new-curriculum in any school is a multi-year process that takes multiple levels of training. 
In previous training held over the summer by a different trainer, faculty members learned how to use the curriculum and resources. During Graham's visit, the teachers were trained on additional resources available to teachers, students, and parents to bridge learning between the classroom and home. Graham walked parents through an overview of the latest resources and taught teachers how to utilize them to enhance each student's educational journey.   
Students view interactive videos in class to help visualize math concepts and refresher "A Second Look" videos are available to students for when they wish to see the idea again and reinforce what they learned.


Parents and students can download the free Pearson BouncePages App on iOS and Android devices to provide additional assistance for homework problems. Sheets from the student workbooks contain specific tags, much like a QR code, which allows worksheets to be scanned with your device to access tutorial videos to help students who are struggling with a concept.


Interactive games to reinforce each concept being learned are available both for classroom and at-home use to build math vocabulary fluency. 
Following the teacher training workshop, Neal Meyer, Carlisle's Lower School Director, said: "The teachers left the workshop energized and excited about math instruction and are gearing up to complete the 2019-2020 school year with a strong finish". She also noted that this would not be Graham's last visit to Carlisle and is working on scheduling an additional workshop in April.
We thank all the parents who took the time out of their busy schedules to come and learn more about enVision Math.  Carlisle strives to keep up with best practices in education to better prepare our students for high school, college, career, and life.
When highly qualified teachers, motivated students,
and committed parents partner together,
the result is the cultivation of lifelong learning.