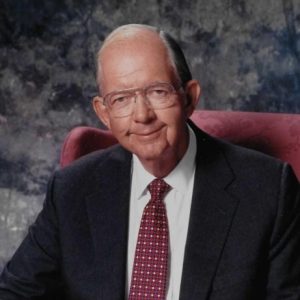 Mr. L. Dudley Walker (1930-2021) was one of Carlisle School's founding fathers. He served on the board of trustees for more than 30 years and had children and grandchildren who attended and graduated from Carlisle. He remained an active member of the Carlisle family for the remainder of his lifetime. Mr. Walker left an incredible legacy for the Martinsville-Henry County area and Carlisle School. We are forever grateful for his contributions, and he will be missed. 
It all began in the early 1960s when Dudley Walker noticed that families from the Martinsville area were sending their children away to boarding schools. Being a successful businessman and president of Bassett-Walker Knitting Company, Mr. Walker knew that sending our bright young minds and future leaders out of town posed a problem for the community. According to his daughter, Virginia Hamlet of Bassett, "The idea of establishing a local college-preparatory school became his passion project."  Mr. Walker, along with other area business leaders, collaborated to develop plans for what would become Carlisle School. Mrs. Hamlet explained how her father knew early on that "offering the option of a college-preparatory education would be important for the community and beneficial to economic development efforts."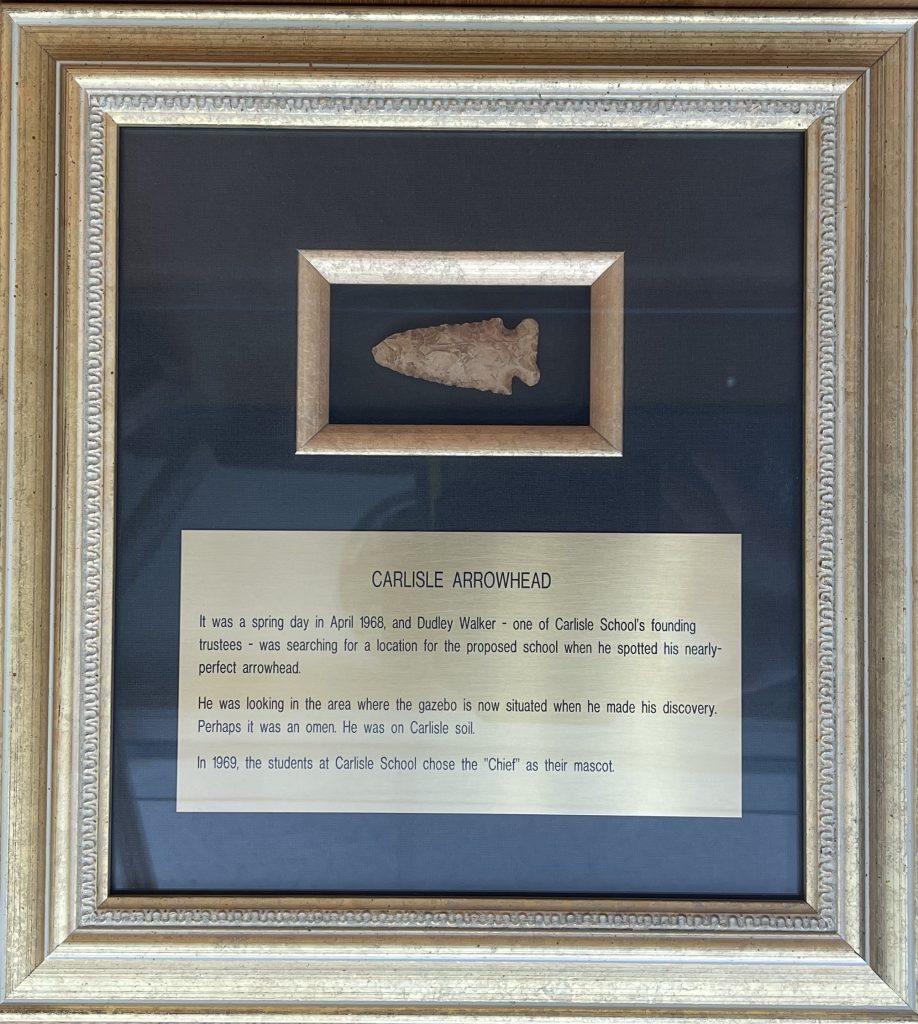 In March of 1968, Mr. Walker, a member of the steering committee charged with developing plans for the creation of the school, served on the Real Estate & Building sub-committee. He would work with Jack Dodge and Jim Montgomery to secure a location. The committee selected an eight-acre plot of land near Chatmoss for the site. Hamlet recalls that when Mr. Walker was touring the property, he kicked up an arrowhead. The school would be named Carlisle after a train station that was formerly located in the area, and Mr. Walker's discovery of the arrowhead led to the naming of Carlisle's mascot with students and teams being called the Chiefs. To this day, the framed arrowhead is still on display for students to see in Pannill-Walker Hall's lobby. 
Laying Carlisle School's groundwork was a family affair as Mr. Walker's wife Elizabeth served on the Library and Admissions committees that first summer. Mr. Walker drafted the first letter informing interested families of the new school and became an original member of the Board of Trustees when the State of Virginia approved The Carlisle Foundation as an organization in June of 1968. That first year the school operated in a mobile building on the current campus, with Gabrielle Roy serving as Head of School. Mrs. Hamlet recalled that "Miss Roy was 5' with heels on and my father was 6' 6" so that was always an interesting sight." Mrs. Walker stayed involved, also serving as a classroom aid for the sixth grade and assisting with many school events in the coming years.
As a member of the Board of Trustees, Mr. Walker was actively involved in selecting, recruiting, and hiring Carlisle's Headmasters/Heads of School. In the school archive is a letter typed on Bassett-Walker Knitting Company letterhead, used to help recruit Carlisle's second Headmaster, Mr. Charles "Charlie" Cumiskey. Mrs. Hamlet shared, "I vividly recall going with my father and others to visit the Cumiskey family in Norfolk." She remembered how welcoming they were and explained that she and the other children who accompanied the visiting party were amazed to learn that the Cumiskey family had six children. Mrs. Hamlet said, "Mr. Cumiskey brought clout to Carlisle School," along with his prior experience and strong track record at past schools. The leaders who helped to recruit him were not disappointed. Cumiskey served Carlisle from 1969-1980. She said, "My father felt that Charlie put Carlisle on the map."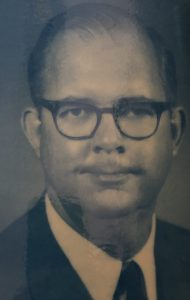 Mr. Walker served as Chairman of Carlisle's first fundraising campaign to fund a new permanent school building. In a letter to stakeholders published in October of 1969, Mr. Walker stated, "There is no greater need or higher challenge to our city than the full support of an outstanding preparatory education for our youth." In the appeal letter, he closed by urging donors to "join us in building a preparatory school of the highest quality… a school devoted to the inspiration of youth."
That campaign and future campaigns were very successful as Carlisle grew to become a multi-building school, with athletic fields, gymnasiums, and fine arts center, on a 25-acre campus. 
Anne Vipperman Madonia, who served as an interim Head of School for the 1983-1984 school year, shared, "Working with Dudley was a true pleasure in that he helped in any way that he could." She explained, "In the early years of Carlisle, there was no director of development to raise money for the school, so most of that job fell to the school head. Dudley came to my assistance and offered to help with the Annual Fund by giving a challenge monetary gift to encourage others to give. From Carlisle's founding in 1968, Dudley was always one of the most generous donors. Just as importantly, he gave generously of his time and expertise by serving on the board of trustees for over 30 years." 
Later that year, Mr. Walker was influential in recruiting Dick Hensley, who would serve as Headmaster from 1984-1992.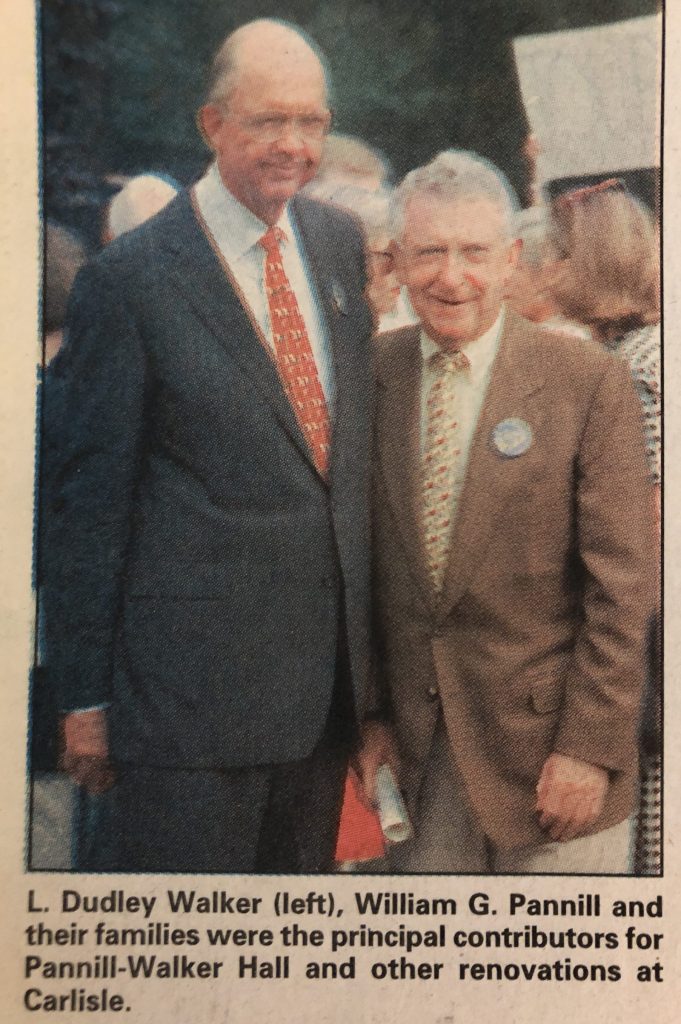 In 1994 as Carlisle's student-body continued to grow, Mr. Walker teamed up with Bill Pannill and more than 180 contributors to fund a new Lower School building called Pannill-Walker Hall. The ground was broken in May 1994 to begin construction, and the building officially opened in September 1995. More than 450 people gathered for the ceremony to celebrate this new addition to the Carlisle School campus. 
In an editorial published that week in the Martinsville Bulletin, the editor wrote that it was "a time of pride for the community. Even though the school is private, it contributes to the educational diversity of the area. That can be a critical factor when businesses are considering moving their employees here." 
Thanks to Mr. Walker's vision and the tireless efforts of the many founding fathers who created Carlisle School, more than 1,300 students have graduated from the school, and many have returned home to open businesses, become property owners, and serve the community. Some have even sent their own children to Carlisle as second-generation students.
For health reasons, Mr. Walker was unable to speak at the commencement that marked the fiftieth year of Carlisle's existence. Instead, he shared the following words with the current Head of School, Gracie Agnew, who read them during the ceremony. 
"The legacy of the first 50 years of Carlisle School is not that of a few men and women who gathered in the 1960s to bring their vision of a local preparatory school to reality.
Rather, the legacy of Carlisle School is that of the students who have embarked on their own life journeys after their time at the school. Guided by capable teachers and administrators along the way, those students have made an impact on our local community, as well as the broader world. It is one of the great pleasures of my life that every graduate of Carlisle School has had a choice of attending an institution of higher learning before leaving their own mark on their own communities.
When my wife, Elizabeth, and I joined the Lester, Montgomery, Dodge, Fitzhugh, Flythe, Broaddus, and Andrews families, among dozens of others, to lay the foundation for Carlisle's future, that choice of higher learning for each and every student was at the core of our goals.
Fifty years later, we are most proud that Carlisle has accomplished just that. We wish the graduates the best in their endeavors and thank them preemptively for the contribution we know they will make to Carlisle's legacy." 
Mrs. Agnew said, "While we mourn the death of our founder, he remains alive in Carlisle's mission. The success of the school serves as a testament to the tenacity of the spirit of L. Dudley Walker."
Related Stories

Gifts in Memory of Mr. Walker
A. Macauley Aron 
Ann Austin
Bassett Furniture
Ben & Page Beeler '74
Nancy Bondurant
Stanley & June Bowles
Kelly & Janice Cain
Allyson Campbell
Susan Richman Caraviello '81
James & Beverley Coleman
Chuck Cumiskey '74
Judy Dashoff
Steve & Cindy Edgerton '79
Robert & Judy Ellis
G.S. Fitz-Hugh
Helen Flythe
Heidi Flythe '81
Frances Gale & Lee Freeman
Jay & Paige Frith 
Tracie Heavner & Jim Frith 
Robert Harder '75
George & Lou Harris
Elizabeth Holsinger
Philip Isley '85

Ran & Linda Isley
Ainsley Johnston '05
Dean & Mary Lewis Johnston '76
Donald & Amy Lampe
Sue Lester
Eugene & Anne Madonia
Martinsville-Henry County Economic Development Corporation
Art & Clarke Meakin '81
David & Susan Morris '75
Bob & Kitty Neil
Harriett Plowden
Meredith Pritchartt
Carl & Kathy Reynolds 
Roscoe & Linda Reynolds 
Douglas & Lewis Riddle
Elizabeth Isley Riley '88
Steve & Mattie Sheppard
Edward & Kim Snyder 
Jane Thomasson
Will & Meredith Vaughn
Michael Ward & NC Textile Foundation team 
Thomas & Stuart Webster 
Brian & Patty Williams 
Julie Work
---
We encourage the Carlisle Family to share memories of Mr. Walker. Please email your statement to development@carlisleschool.org to be included on the tribute wall below. 
"In memory of L. Dudley Walker and in grateful appreciation of his friendship." – Harriett Plowden
"We have truly lost one of the great leaders in our community. In this small way, we want to add to his influence in the world." – Edward & Kim Snyder
"A good man! What he did for Carlisle is just one example of his commitment to the employees of Bassett Walker and the Martinsville-Henry County Community." – Carl & Kathy Reynolds, Grandparents of Alumni
"Dudley helped Carlisle become the excellent institution it is today. Carlisle and the community have lost a true benefactor and friend. He will be missed." – Anne Vipperman Madonia, Former Interim Head of School 
"I taught both of his daughters (Virginia and Anne) in the lower school. Dudley loved history, and so did I, so we really connected over that. I have fond memories of visiting him with my son Philip to talk about history." – Linda Isley, Former Faculty
"He was such a gracious gentleman. His genuine desire to leave the world a little better than he found it resonates in his legacy of family, faith & community. RIP good & faithful servant." – Moe Carter
"A good businessman, and visionary, a huge supporter of the community and Carlisle, but mostly, a great person." – Dean Johnston
"Big D will be missed always, but we will continue to honor his legacy and his vision of what Carlisle could be for Martinsville. Sending the whole family my love!" – Ainsley Johnston '05
"You are in our thoughts and prayers during this difficult time." – Michael and the NC Textile Foundation team