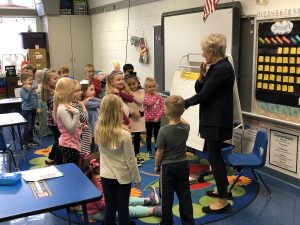 AXTON, VA (January 10, 2020) – Dr. Jean Feldman is a noted early childhood education expert, a published author, a YouTube sensation, and most early childhood educators, she is a rock-star. Dr. Jean's songs, recordings and videos are a staple in pre-school and elementary classrooms around the nation. Carlisle School was honored this week to host Dr. Jean for classroom visits, a family concert, and an educator's workshop. 
On Thursday, January 9th Dr. Jean visited Pre-Kindergarten and Lower School classrooms to interact with students, sing songs, and tell stories. The students who are very familiar with Dr. Jean's recordings and videos were thrilled to have her visit with them. After exploring the campus and meeting teachers and students, Dr. Jean told school officials, "you have a little piece of Heaven here." That evening she returned to the school to provide an interactive family concert, open to the entire community. More than 100 children and parents attended the free concert as they sang and danced to favorite songs like "Tootie-Ta," the "Peanut Butter Dance," and "The Banana Song" (aka "The Guacamole Song"), which has become a viral sensation on YouTube with more than 34 million views.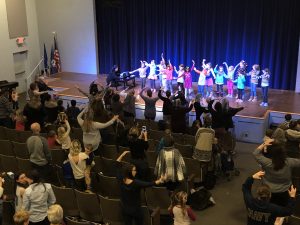 Mary Lewis Johnston, a Carlisle alumna who spent most of her career as an educator, attended the show with her young friend Tanner Horsley, who is a kindergarten student at Carlisle. "It is so exciting to have such an inspirational, motivating, icon of elementary education in our wonderful school!" She added, "To see the children's eyes light up when they saw her and hear those sweet voices singing her songs was so heartwarming. What a wonderful night for those who attended."
On Friday morning, Dr. Jean returned to Carlisle School to host an educational workshop not only for Carlisle's teachers but also for educators from throughout the region. More than fifty teachers from 14 different schools attended the event.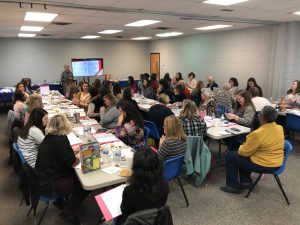 At the hands-on, interactive workshop, the teachers were taught songs, dances, cheers, and rhymes to use in their classrooms. They were also given many research-based resources to take back to their schools. In her workshop, Dr. Jean emphasized the importance of keeping students off their "screens" and actively participating with their peers. Caitlin Price, a kindergarten teacher at Sacred Heart Catholic School, said, "I've really enjoyed bringing back the old-school ways and all the hands-on things to get our students up and moving in the morning. Getting the day started the right way helps  them to become more involved in their learning."
Nancy Clayton, a kindergarten teacher at Brosville Elementary School in Pittsylvania County, shared that she has been using Dr. Jean's songs in her classroom for the past 15 years. "She [Dr. Jean] is the coolest and has the best ideas. Being here today is a reminder of all the things we need to do to keep the kids active, engaged, and happy in the classroom." Clayton, who has never met Dr. Jean before said of the workshop, "It's like Christmas morning. I told my kindergarteners yesterday that I was coming to meet Dr. Jean today, and they were so excited for me and a little jealous too." She added, "To see her do all those activities in person, it gives one energy to take back to the classroom." 
Pamela Barnes of Mount Olivet Elementary School said, "I have learned a lot of awesome things from Dr. Jean, especially the music. I teach early childhood special education, so lots of singing, dancing, and learning through music helps the children learn and succeed."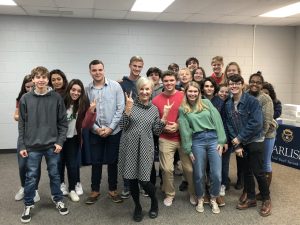 One of the most surprising, as well as endearing, parts of the day for all workshop participants was the enthusiasm exhibited by 9th-12th grade students who grew up listening to Dr. Jean. Upper School teacher Shannon Reynolds explained, "It was difficult for me to curb their excitement. The students were quick to inform me that she was 'The Famous Dr. Jean.' They showed me videos and explained how cool she is". To show their appreciation and love of Dr. Jean, the students begged for an audience and were allowed to perform "The Banana Song" for her and guests of the workshop. 
Carlisle ninth-grader Kate Turner said, "As kids, we would listen and dance along to her music. It was a fun way to get involved as a group or class"  Classmate Elizabeth Wright added, "Even though she's mostly for younger viewers, she's still popular with our age group. We are all excited to see her here."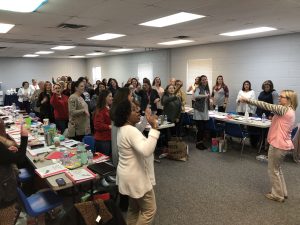 According to Neal Meyer, Carlisle's Lower School Director, "Dr. Jean's endless energy and enthusiasm for teaching and learning that she exuded during her workshop today has inspired us all. The teachers will return to their classrooms with so many new tools in their toolbox."
About Dr. Jean:
Dr. Jean Feldman's noteworthy educational career has spanned more than 40 years. She has served as a classroom teacher, instructor of adults, author, and consultant. She is a member of the National Association for the Education of Young Children, the National Kindergarten Alliance, and the International Reading Association. Dr. Feldman's list of degrees includes a B.A. from the University of Georgia, a D.A.S.T. from Emory University, and both M.A. and Ph.D. degrees from Georgia State University. Dr. Feldman inspires teachers across the country with her engaging songs and creative activities that help make teaching and learning FUN! Among Dr. Jean's many accomplishments is the authorship of several books, and Dr. Jean has also published a number of recordings that are used by school systems throughout the country.
About Carlisle School:
Carlisle School is an independent Pre-K through 12th-grade college preparatory school that provides a positive, safe environment for academic excellence and character development while embracing diversity and preparing our students to become leaders as citizens in a global society.