Creative Powerhouses is from an eight-part series filmed at Carlisle School's 32nd annual 8th Grade Forum. In this segment, Camden Holland presents on the Thiel Fellowship, and Lillian Sullivan presents on Walt Disney's career.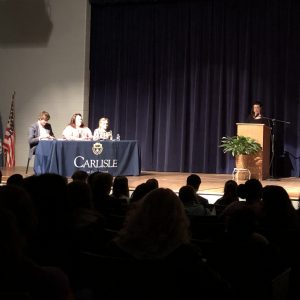 Forum is a tradition that has become a rite of passage for eighth-grade students. It was originally developed in 1990 by Mrs. Linda Gibson in conjunction with the late Mrs. Peggy Ford. The Forum is a formal research paper on an important current or historical topic. The history and English departments coordinate the Forum program to enable students to develop critical reading and writing skills using historical analysis, primary and secondary sources, and contemporary media.
Students learn the value of academic research and of exploring various points of view. They investigate assigned topics and create a multi-draft research paper which is ultimately crafted into a short oral presentation.

Carlisle School is an independent college preparatory school that provides a positive, safe environment for academic excellence and character development while embracing diversity and preparing our students to become leaders as citizens in a global society.

Click to learn more about joining the Carlisle Family.