Earlier this month, students at Carlisle School celebrated the Chinese New Year. Each month Carlisle conducts a unique program called Mentoring, where Upper School students in grades 9th-12th (mentors) are paired up with Lower School students in grades K-5th (mentees). The mentoring activities vary from month to month, and this time Chinese New Year was the theme for all activities. 
Lower School students adore having the older students enter their classrooms for one-on-one interactions. The mentors began by reading age-appropriate stories in each classroom about the traditional Chinese festival that is celebrated from January 17th through February 8th.  Following the story, mentors and their mentees colored pictures to celebrate 2020 as the year of the rat and made paper lanterns. Chinese students in Carlisle's international program gave each of the Lower School students a small red envelope with a golden coin, a tradition that allows elders to pass on a year of good fortune and blessings. 
The students and faculty also enjoyed learning about Chinese culture from two Carlisle School seniors who visited China in December.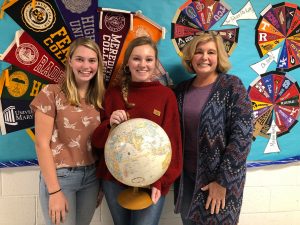 Olivia Aaron and Margaret Wright were given an exceptional opportunity to represent their school, state, and nation at an international forum. They traveled to Shenzhen City in the Guangdong Province of China to serve as keynote speakers for the 2019 Shenzhen International High School Students Forum.
The three-day forum, initiated and led by the Shenzhen Education Bureau, was hosted by the Shenzhen Senior High School, and the theme for the conference was "Future Age and the Growth of Civilization Diversity." Aaron and Wright were invited to attend and give a brief presentation on American Culture at the roundtable conferences and to submit a research paper and speech on the sub-theme of "Civilization Diversity and the Construction of a Community with a Shared Destiny."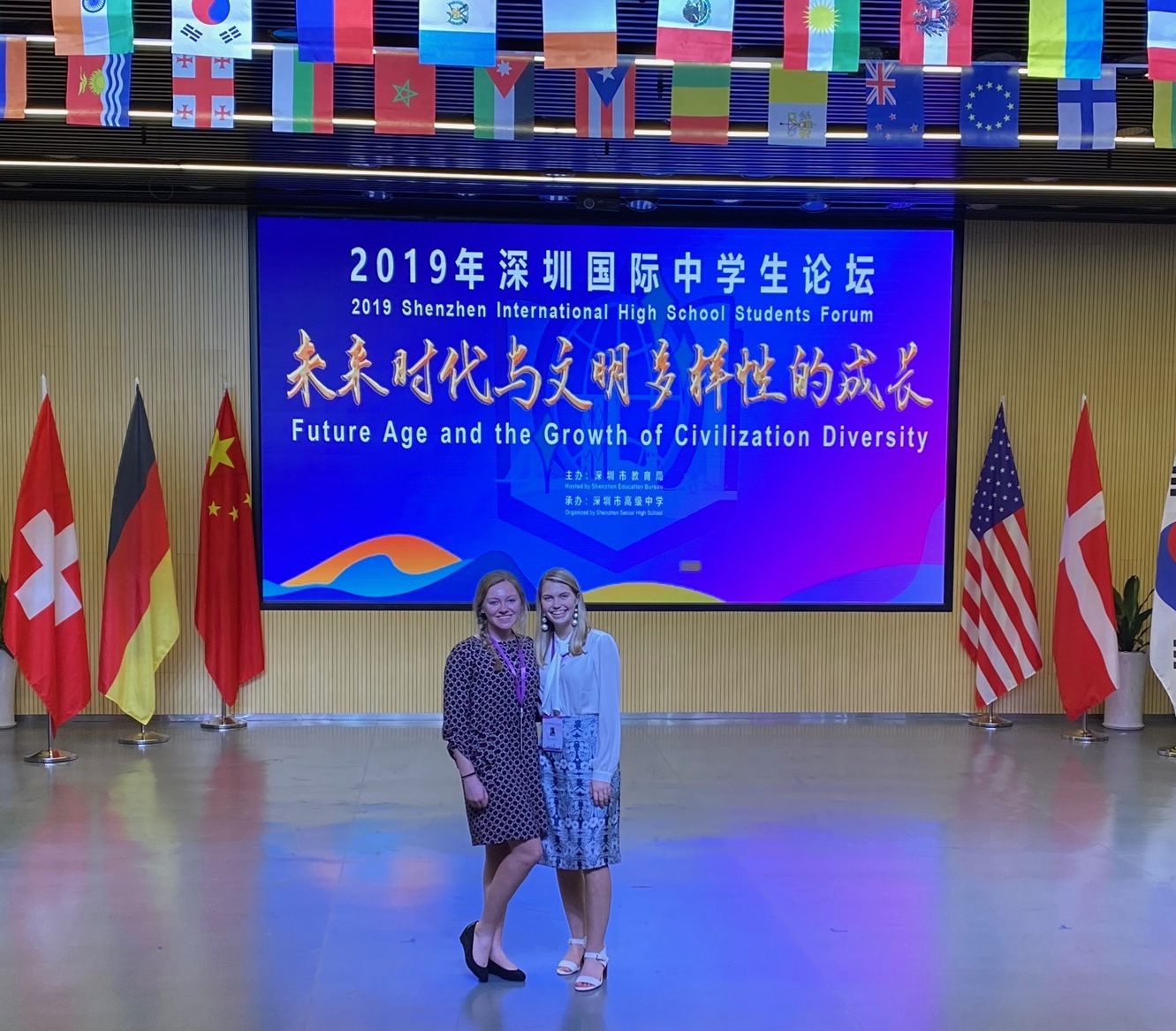 The Carlisle students chose to focus their paper and speech on climate change and how countries around the world can share ideas and work together towards a common goal. Upon review of their paper, the Shenzhen host committee selected Aaron and Wright to present their paper as a keynote speech at the forum. They were chosen to give the 2nd speech out of 12 speeches from 10 schools given during the Keynote presentations. There were a total of 21 schools with 125 students attending from 15 countries, and they were among only three American schools. 
In their paper and speech, the students discussed that by creating an open dialogue, countries could determine what tactics work best and collaborate to minimize environmental damage to the earth. Aaron and Wright explained, "old tactics are not necessarily better or worse, and neither are new tactics. We do not want to discount certain culture's ways of doing things, like agriculture, but we also don't want to shut out the new tactics that could be better."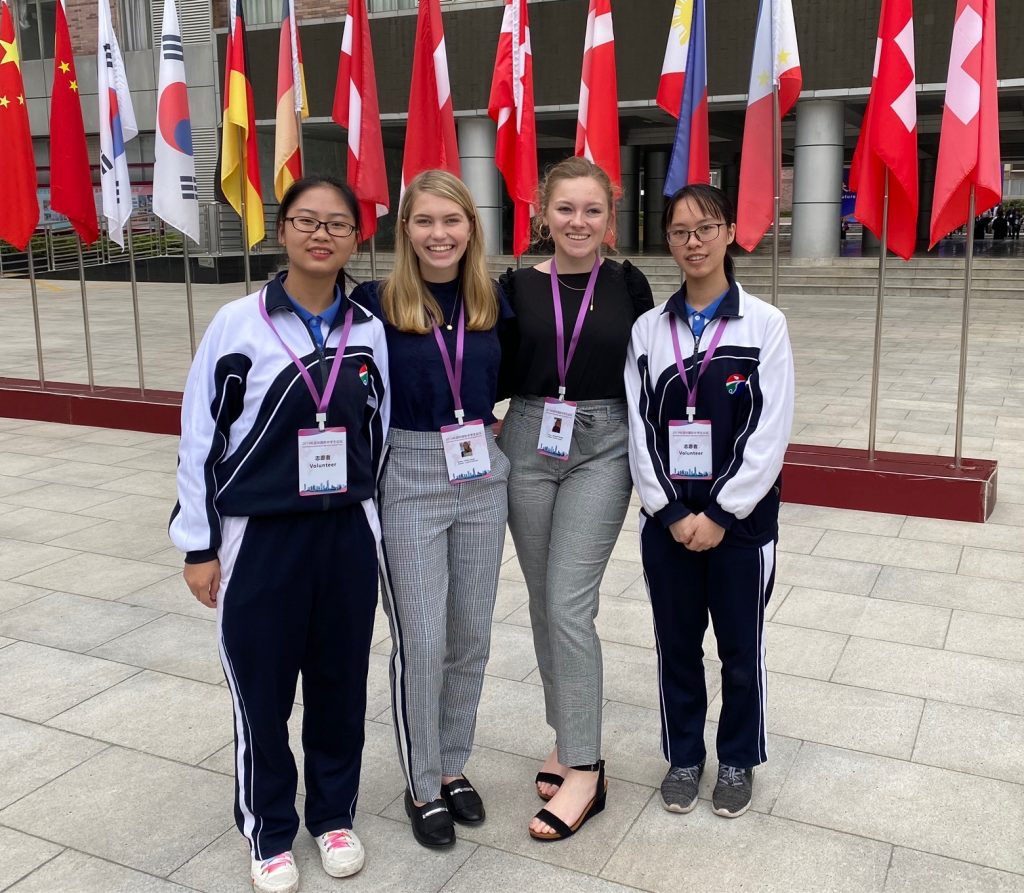 Both students are executive members of Carlisle School's Student Council Association. They are working with other students to address concerns on Carlisle's campus, such as an enhanced recycling program and the elimination of styrofoam goods from the school's dining hall. 
Carlisle's College Counselor Susan Aaron, who accompanied the students on the trip, explained that Aaron and Wright's environmental leadership at Carlisle was a major determining factor for the host committee to select them as speakers. She noted, "Olivia and Margaret have been very active in protecting the environment by starting efforts from the homefront. Rather than telling others what they are doing wrong, they have looked closely at Carlisle to determine what we can change here, first." She added that it was a tremendous honor for both the students and Carlisle to be chosen out of many other schools to have the opportunity to speak at the forum. 
Aaron explained that she was "excited to experience the culture. I've had people live with me from Asian countries. Still, I've never actually experienced that culture, so it was an honor to go to China and interact with students from all over the world and see their perspectives on different topics in the forum."
Wright added that she "enjoyed participating in the round table conferences where we learned about the cultures of other students and became immersed in their cultures."
The speech was well-received, and they were commended for their well-prepared and Graduate School level presentation. While most groups only participated in one event, Aaron and Wright also presented a cultural PowerPoint on American and local culture. While at the school, the group also participated in several field trips around Shenzhen to the Shenzhen Museum, the Shenzhen Mall, and Tencent Headquarters where they had a behind the scenes tour.
Following the school Forum, Aaron and Wright remained in China with their chaperone for an additional three days. They visited local museums, cultural centers, and parks to learn more about Shenzen and Chinese culture. Using a local guide enabled the group to immerse themselves in local culture and try local foods. They found Shenzhen and the surrounding area to be charming, and the meticulous planning for the city fascinating. All in all, the girls found the experience to be a unique cultural experience and are thankful for the opportunity.
---
More Photos from Shenzen
---
More Photos from Mentoring Day 
---
About Carlisle School:
Carlisle School is an independent Pre-K through 12th-grade college preparatory school that provides a positive, safe environment for academic excellence and character development while embracing diversity and preparing our students to become leaders as citizens in a global society.