Chad Everett Martin
. Chad graduated in the class of 1997, and during his time at Carlisle, he played soccer and basketball, serving as co-captain for both teams in his senior year. He is a graduate of
Shaw University
with a bachelor's degree in Religion & Philosophy.
Our Alumni Highlight this month is a Q&A with
He has served as
Vice Mayor for the City of Martinsville
since 2017 and works for the University of Virginia as Director of
History United
, a project of Virginia Humanities. History United focuses on arts, history, culture, humanities, and tourism.  The project serves the Middle Border between Virginia and North Carolina, Pittsylvania County, Danville, and the Caswell County area.
Chad has worked in the nonprofit world for over 20 years, and he holds many certifications, including the Duke University certification in nonprofit management, a Leadership Plenty Train the Trainer Facilitator, (MVP) mentors in violence prevention train the trainer, and a University of Virginia/Center for Disease Control Lifestyle Coach certification. He currently serves on the Board of Directors for the Virginia Food System Council. In the past few years, he has completed several fellowships, including the Virginia Natural Resources Leadership Institute, a Leadership Southside Fellow, a Virginia Tech VALOR Fellow, a Roanoke City Works Xpo Fellow, a DC '17 Starting Bloc Fellow, and a Middle Border Forward Fellow.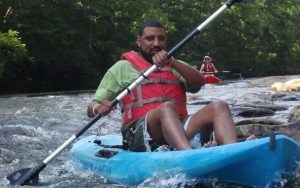 This past year he was inducted as a Global Goodwill Ambassador, and he has spent the majority of his life in service to others and hopes one day someone can report that they have benefited from his help.
Chad loves to read, kayak, hike, watch movies, and visit museums in his spare time.
---
Q: What was your overall experience at Carlisle like? 
A: Carlisle was the substratum for me to get a diverse experience. It was the first time I didn't want to miss a day of school, and the small classroom size allowed for a personal relationship with our teachers. This background helped me to seek out deeper relationships with my professors in college.
Q: What was your most memorable Carlisle experience?
A: Mr. (Colin) Ferguson, along with Coach (Jeff) Adkins, drove me to Tennessee for my first college tour, and it meant so much that they would take time out for me. To have your coach and the Head of School drive you such a great distance means they didn't just care about me as a basketball player while at Carlisle, but they wanted to see me excel in life.  I will forever be beholden to them and want to make sure that people know the personal attention that Carlisle gives its students.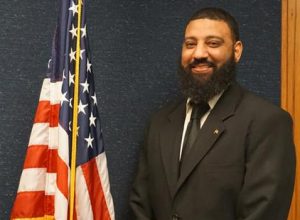 Q: What impact did Carlisle have on your current career in public service?
A: Mr. Ferguson somewhat inspired me to be on the city council as he took me to a Chamber of Commerce meeting my senior year. It was interesting to hear from another perspective about the business side of the city and county. Mr. Ferguson also took me to speak at the Knights of the Roundtable, which was my official public speaking event as a teen.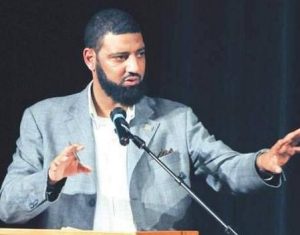 Q: What is it like to serve your community? 
A: There is no average day serving on the city council as our citizens call on us to do various things. I could get a call, email, letter, or stopped in person for a wide range of things. We attend community meetings, ribbon cuttings for new businesses, strategy sessions with school leadership, and the General Assembly in Richmond. Also, we visit schools, residents' homes if they are having personal issues, businesses, and so much more. I think with anything I do, I want to make sure I am being used to help the community. 
Q: How important is it for our community to offer the option of independent school education?
A: I am a big proponent for school choice and would at the state level advocate for aid to assist private schools. I realized really quickly the personal benefits of having the small student-teacher ratio and the relationships you could make at a private school. While I would never give up my experiences with public school because I would have never met Mrs. Cox, I think all students need to have the option to have a public or private experience. Carlisle's teachers shaped my world view as I met a real-life Audrey Hepburn in Mrs. Thomas. I got to meet a personal friend in Mrs. Seiy, and I finally appreciated English with Ms. Smith as I wrote her a poem my senior year in appreciation for her spirit. When it comes to economic development and school choice, this area provides an option for children to have personalized instruction that speaks to success on the collegiate level.
Q: What words of wisdom would you share with our seniors?
A: We can be coasting along in life and have all the right plans when out of nowhere, some major issue arises that teaches us we have to be fluid and creative to adapt to the environment around us. College is all about time management. Have fun but remember that college is temporary, so get what you came for and be prepared to help change this world. 
---
Your story could be next! If you would like to be featured in an upcoming story, please visit our Alumni Highlights page to sign up. You can also nominate a classmate to be featured as an Alumni Highlight by contacting Development@CarlisleSchool.org. #OnceAChiefAlwaysAChief #CarlisleFamily