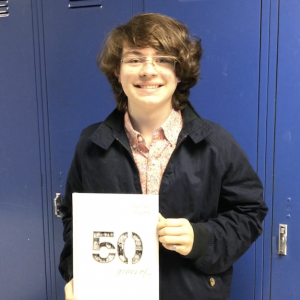 AXTON, VA (May 19, 2021) – Jostens, the leading producer of yearbooks and student-created content, announced that Carlisle School's yearbook program has achieved the Jostens 2021 National Yearbook Program of Excellence award at the Bronze Level.
The National Yearbook Program of Excellence recognizes engaging yearbooks that reflect a broad representation of the student body while helping students develop 21st-century skills such as communication, collaboration, and information and communication technologies (ICT) literacy.
Carlisle's award-winning yearbook program is led by Taylor Adelman and Rebecca Clardy, business, specialty pages, and portraits; Garret Kangas and Addison Clark, senior pages and sports; Tyron Henry, sports and ads; Jameson Smith, Nour Bensadik, and Ennass Alfahd, events and student life under the direction of Lorelei Maney, yearbook adviser. According to Maney, "My staff wanted to produce a positive record of what Carlisle students did this past year to show that we continued to thrive despite the pandemic. The yearbook shares Carlisle's history and showcases the quality of our programs and the diversity of our students."
Jostens' National Yearbook Program of Excellence Awards are presented twice a year, in spring and fall, based on the yearbook's arrival date at the school. The award was presented to the Carlisle School yearbook program for achieving defined criteria in the following categories: creating an inclusive yearbook, generating school engagement, and successfully managing the yearbook creation process.
"Jostens is proud to recognize those individuals who have created an exceptional yearbook for their school and community," said Tammy Whitaker, Jostens VP, and COO Yearbook Division. "These schools did an exceptional job on multiple levels, despite the challenges presented by this school year. Yearbooks are a critical part of capturing and telling a school's story, and Jostens is dedicated to supporting yearbook staff members as they do their important work."
Behind-the-Scenes