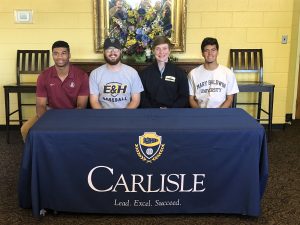 AXTON, VA (November 13, 2019) – On National Letter of Intent Signing Day, four Carlisle School students committed to playing baseball for college teams. Trey Carter, William Clark, Nick Duncan, and Juan Vascones are all seniors at Carlisle School and members of the Carlisle Varsity Baseball Team. 
Trey Carter signed a letter of intent to play NCAA Division I baseball for Florida State University (FSU). This 1st Team All-Conference athlete is currently taking AP Biology at Carlisle and plans to obtain a degree in sports medicine from FSU so that he may become a physical therapist. Carter, who transferred to Carlisle from a public school, said that being at Carlisle has been a positive experience for him, "everybody joins together, and it's a tight family; we have a bond that can't break." According to his father, Terry Carter, "Carlisle has gone far and beyond to help Trey get prepared for this day, helping to ensure that his paperwork was complete, and his grades are where they need to be so that he is ready for the next step." In addition to playing baseball for Carlisle School, Carter has also participated in the Perfect Game PG Jr. and PG Nationals each year since 8th grade, which is an invite-only program. 


William Clark, who plays middle infield for the Chiefs, signed a letter of intent to play NCAA Division III baseball at Emory and Henry. Clark, who transferred to Carlisle from Franklin County in his freshman year, plans to pursue a degree in finance from Emory and Henry. "Being here elevated my academics to a level I didn't think it would go, and it changed me as a person." Clark is currently taking three AP level classes and is in the National Honor Society. He added, "Athletically, playing for Coach Inman these four years has changed my game; it helped me grow as a player." Last season Clark was named a 1st Team Conference and 2nd Team State player. According to his mother, Rhonda Clark, "William has felt at home at Carlisle from day one. Where he came from a much larger public school setting, the smaller class sizes at Carlisle have been beneficial to help him be comfortable in his own skin." She added, "He is excited to attend Emory and Henry because it has a similar tight-knit feel like Carlisle." 


Nick Duncan, who is a pitcher and second baseman for the Chiefs, committed to play at Patrick Henry Community College. This year is Duncan's second playing for Carlisle, and last season, he was named a 1st Team All-State and 2nd Team All-Conference player. In addition to playing baseball, Duncan also takes Honors Pre-Calculus at Carlisle. He said,  "Coach Inman has helped me a lot in pitching and to progress as an athlete." 


Juan Vascones signed a letter of intent to play NCAA Division III baseball for Mary Baldwin University, where he intends to pursue a degree in engineering or mathematics. Vascones is part of Carlisle's international program, visiting from his home country of Ecuador. This year is his second playing for Carlisle, and he lives with Bennette and Gentry Zentmeyer, who serve as his host family. Vascones is taking AP level classes, and is a recent recipient of Carlisle's Citizenship Award. He said, "I feel that I am part of a family here. It is different from back home because here you feel like you are part of something bigger." 
The Carlisle School baseball team is led by Coach Will Inman who played nine and a half years of professional baseball for the Milwaukee Brewers, San Diego Padres, Boston Red Sox, and the Tampa Bay Rays before coming to Carlisle School in 2017. 
According to Inman, "Today means a lot to me because this is the first class that I brought in to Carlisle on my own, and it has produced great results with four guys signing today to go to college and play baseball. This is great news for our school and our program." Inman explained that "the students work hard in the classroom to ensure their GPA is up." He added, "I make it a point to help them understand time management to be able to prepare for their classes which are very tough and rigorous. Our guys work really hard both on the field and in the classroom."   
Melinda Brightwell, Carlisle School's Athletic Director, said, "To have these four young men commit to collegiate programs is a testament to their hard work and dedication to their sport. Coach Inman has done a fabulous job in preparing them for play at the next level. We are incredibly proud of their accomplishments."