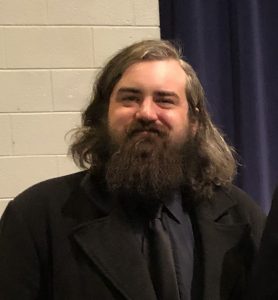 Our Alumni Highlight this month is a Q&A session with Ben Williams '03.  Ben graduated from Roanoke College in 2007 with a Bachelor's degree in English. He is the Administrator of Science at the Virginia Museum of Natural History (VMNH) and writes a weekly column for the Henry County Enterprise newspaper. In his free time, Ben enjoys watching terrible horror movies and playing pinball.
---
Q: How did your Carlisle education help to prepare you for college and career?

I'm very grateful for the education I received while at Carlisle. When I first arrived at college, I was fully expecting to be overwhelmed by the rigorous coursework. What I instead discovered was that I had essentially been taking college-level courses for most of my high school career. Had I not received a top-tier education at Carlisle, I expect that my transition into college academics would have been much more challenging.
Q: What inspired you to go into your current career?
I'm currently the Administrator of Science at the Virginia Museum of Natural History, which has proven to be a wonderful fit. A big part of my position is helping translate the complex work that our curators are doing into terms that anyone can understand. Writing is my first love, so I enjoy being able to use my writing skills to help people understand scientific concepts that sometimes come across as a bit abstract.
Since I was a little kid, I've also been fascinated by the natural world, especially insects, amphibians, reptiles, and other critters. It's a lot of fun to be able to learn more about nature and biology and then write about those topics. I give a lot of credit to Dr. Fraser's IB Biology course I took at Carlisle; the scientific knowledge I picked up in the class has definitely helped me hold my own when talking to our museum curators.
Q: Looking back on your time at Carlisle School, what were the most meaningful experiences that helped shape you as an adult?
I have to give a lot of credit to Jay Cardo's English and literature classes. Mr. Cardo was only at Carlisle for two years, and I count myself fortunate to have had him both of those years. We have similar tastes, and he introduced me to some of my favorite books and authors of all time, such as "A Confederacy of Dunces" by John Kennedy Toole and "Fear and Loathing on the Campaign Trail '72" by Hunter S. Thompson. He also introduced me to the music of Frank Zappa, who remains one of my favorite musicians. When I needed good advice from a cool adult, Mr. Cardo was always willing to help.
It's been about 20 years since I took those classes with Mr. Cardo, but we still remain in touch. I'm still in contact with several of my former Carlisle teachers, as a matter of fact. In that same vein, if I hadn't gone to Carlisle, I wouldn't have met some of the best friends I've ever had in my life, folks I still talk to at least once a week. Shout out to Bradley Barbour, William Osborne, and Justin Adkins; I'm glad us weirdos are still hanging out together!
Q: What college advice would you like to share with the class of 2020?
To the class of 2020, I'd like to give the following advice: Work hard, but don't forget to have fun. Don't go out and party every night, but go out and party occasionally, and go to Waffle House with your friends in the middle of the night, and don't pass up any weird opportunities. When you look back on your college experience, those are the moments
that will stand out the most.
For those students due to graduate in 2021, 2022, and beyond, I have an additional piece of advice: don't let anyone tell you what it is that you want to do. That's a decision you have to make for yourself.
If you want to go to college for art, do it.
If you want to save money by going to community college for two years and then transferring, do it.
If you want to learn a trade, do it.
Your life belongs to you alone, and if there's a passion you want to pursue, you should pursue it, even if other people tell you it'll never make you any money.
Despite what you might have heard, there are a lot of things in this world that are much more valuable than money.
Q: As a professional, what accomplishments are you most proud of?
While I'm not quite in Stephen King territory, I'm most proud of my writing career. Last year, a book that I co-wrote with Andy Parker – "For Alison: The Murder of a Young Journalist and a Father's Fight for Gun Safety" – was published by Apollo Publishers. That was the most difficult writing project of my life, but I'm proud of the end result.
I have also had two plays produced and I wrote a short film. I've participated in The International Three Day Novel Contest every year since 2007, placing in the top ten on two occasions, and I write a weekly column for the Henry County Enterprise newspaper. I have a few irons in the fire now, and I'm always looking ahead to the next project.
---
If you would like to be featured in an upcoming Alumni Highlight, please visit our alumni page. 
Related