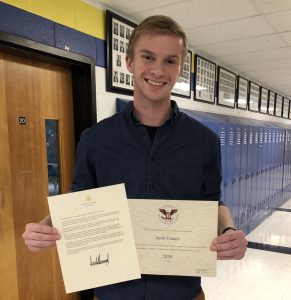 Jacob Tisdale of Martinsville, a senior at Carlisle School, has been honored for his exemplary volunteer service with a President's Volunteer Service Award. 
The award, which recognizes Americans of all ages who have volunteered significant amounts of their time to serve their communities and their country, was granted by The Prudential Spirit of Community Awards program. Carlisle's College Counseling Department nominated Tisdale for national honors this fall in recognition of his volunteer service. 
Tisdale has been a member of the student council all four years of Upper School and is serving as class president in his senior year. He has also been a member of Carlisle's Mentoring program for the past four years, a program that builds school-wide relationships while also providing each younger student with an excellent teenage mentor. Tisdale represented Carlisle as a member of the Model United Nations Team last year and will travel with the competition delegation once again this spring. He was also selected to attend Boys State this past summer to participate in their leadership program. 
In addition to performing in plays and musicals at school through Carlisle Players Theater, Tisdale is also a talented violin and viola player. As a junior, he dedicated four hours each Sunday for rehearsal with the Roanoke Youth Symphony. This year he is a member of the Valley Chamber Orchestra, practicing each week and performing with them.
Tisdale has served the community through work on the Harvest Foundation's Harvest Youth Board since his sophomore year. He has been their Special Events Coordinator and is currently the Treasurer. He was instrumental in organizing the 2018 Thanksgiving Eve Dinner, including advertising, strategizing, and manual labor required to provide a community meal for more than 3,000 people. 
In Tisdale's application essay for the President's Volunteer Service Award, he pointed out, "Too often, a youth board uses young people as a figurehead while adults make all the hard decisions, and handle all the responsibilities." He explained that the Harvest Youth Board not only empowers youth members to take the lead in decision making, but it also illustrated that "the decisions we made truly did make an impact. As I began to feel more socially comfortable around my peers and realized that these discussions lent themselves to the betterment of my community, I began to open up." Tisdale shared that "I am now considered one of the most outspoken members of the board, and I rarely shy away from sharing my opinions and perspectives on grants and initiative ideas. Often I will respectfully contest popular opinions on the board and have withheld my vote from otherwise unanimous decisions. I developed confidence in my voice as well as strong opinions and a passion for my community in the first few months of serving on the [Harvest Youth] board."
Tisdale is an Honor Roll student on the Trustee's list, a member of the National Honor Society, and a Junior Marshall, in addition to playing baseball and soccer for Carlisle and balancing his volunteer and activities.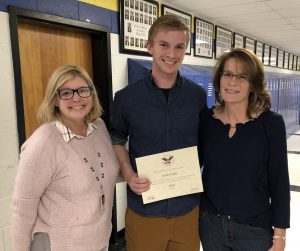 "Open-minded and compassionate, Jacob is an asset to any community endeavor he pursues and consistently gives his best effort ensuring success for any project," said Susan Aaron, College Counselor at Carlisle. "Jacob's interest in helping his community is genuine, and he demonstrates respect for all individuals he encounters, making them feel welcome and appreciated."
Along with a certificate of honor, Tisdale also received a letter from The White House signed by President Donald J. Trump. In the letter, President Trump said, "Over this past year, you have served as a model of the American spirit. Your many hours of service have strengthened the bonds of cooperation and trust that bring people together while helping to address some of the greatest challenges of our time."
In its 25th year, The Prudential Spirit of Community Awards program, sponsored by Prudential Financial in partnership with the National Association of Secondary School Principals (NASSP), recognizes middle level and high school students across America for outstanding volunteer service.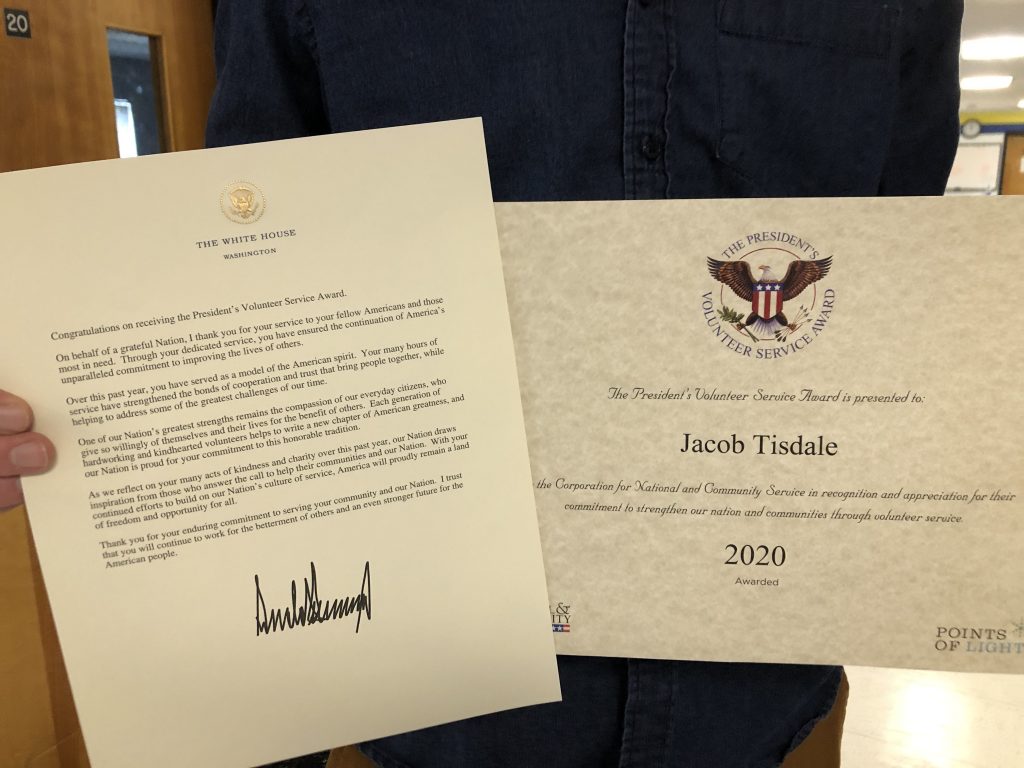 "Across the United States, young volunteers are doing remarkable things to contribute to the well-being of the people and communities around them," said Prudential Chairman and COE Charles Lowrey. "Prudential is honored to celebrate the contributions of these students, and we hope their stories inspire others to volunteer, too."
"Demonstrating civic responsibility through volunteerism is an important part of life," said NASSP Executive Director JoAnn Bartoletti. "These honorees practice a lesson we hope all young people, as well as adults, will emulate."
Prudential Spirit of Community Award application details were distributed nationwide last September through middle level and high schools, Girl Scout councils, county 4-H organizations, American Red Cross chapters, YMCA's, and Points of Light Global Network members. These schools and officially-designated local organizations nominated Local Honorees, whose applications were advanced for state-level judging. In addition to granting President's Volunteer Service Awards, the Prudential Spirit of Community Awards selected State Honorees, Distinguished Finalists, and Certificate of Excellence recipients. Volunteer activities were judged on criteria, including initiative, effort, impact, and personal growth. 
---
Video Highlight
Watch as Susan Aaron, Carlisle's College Counselor surprises Jacob and his mother, Christina Tisdale, with the news!