A Carlisle education is an investment in the future. In this series, please join us in celebrating the successes of our alumni.
Sarah Beth (Keyser) Morrison '06  and Gregory Sheppard Morrison '02 know that the best way to help your hometown is to come back and share your talents. After college, they both returned home to contribute to MHC by supporting educational opportunities for future generations. Sarah Beth and Gregory married in 2015, they have a two-year-old daughter and are expecting a second daughter this month.
Sarah Beth is the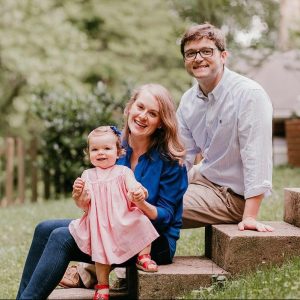 Coordinator for Grant Development at Patrick Henry Community College where she has helped raise approximately $15 million in grant funds. She graduated from Davidson College with a B.A. in English where she was a Bonner Scholar, and she earned her Master's Degree in Education from Mary Baldwin University. Sarah Beth credits her Carlisle education with her success in college and beyond, particularly in helping shape the writing skills that she uses every day.
Gregory returned to Carlisle School in 2013 to teach Upper School English and several electives. He has a B.A. in Anthropology from William & Mary, and he earned his Master's Degree in English from Hollins University. Now in his eleventh year of teaching, Gregory has also written for many publications, including the Los Angeles Review of Books. He hopes to give students the same experience that he had during his time at Carlisle. He described the campus as  "a small community where teachers were free to help students find their own passions."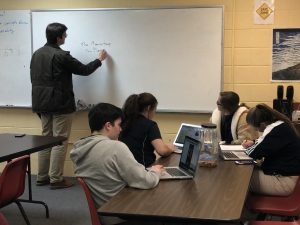 Bay Twilla, a Senior in Gregory's class, explained that "it's very easy to connect with Mr. Morrison because he makes a constant effort to understand his students as individuals."  According to Bay, "he enlivens the classroom by using humor to keep us interested in the topics while still ensuring that we obtain full knowledge of the curriculum." Another aspect of classes that she enjoys is how  "he uses modern ideas to connect us back to the older writings, which helps us relate to the history and content of the literature."
We are indeed proud to have Gregory among our faculty at Carlisle School and give him and Sarah Beth both props for coming back home to help the Martinsville-Henry County area grow and prosper!
Want to share YOUR story? Click to update your alum contact info.