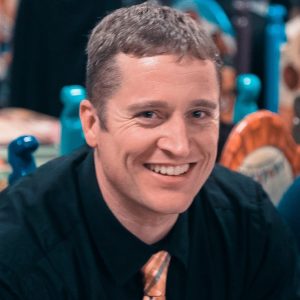 Our alumni highlight this month is a Q&A with Christopher Adam Clark '99. Chris shared, "Lots of life has been had since my days as a Carlisle student, including being blessed with the opportunity to teach and coach at my alma matter from 2007-2013." A highlight of his career at Carlisle was being a coach and host parent to a member of the 2013-2014 Carlisle boy's basketball state championship squad.
Chris is now married with two young children and works as a clinical pharmacist for Appalachian College of Pharmacy and Sovah Health of Martinsville. "It's the little things that make me tick these days," he said. "Walking with my family around Lake Lanier, cooking out with friends, and teeing it up for an occasional round of golf." He added, "Watching my two small kids grow up occupies most of my free time, and I wouldn't trade that for anything."
Q: What Carlisle experiences influenced you the most?
A: "There are so many wonderful and influential experiences that I can vividly recall. Probably more than anything else, I have so many great memories on the stage in both theater and madrigals. Mrs. Candace Owen-Williams and Pam Randall were both fantastically talented individuals. It's truly hard to believe how much they got out of a small-town, ragtag group of kids like us. But more importantly, they were even better people with true passion – and patience – for youth. I don't believe I could ever thank them enough for the impact they had on my life.

Carlisle has been blessed with so many great basketball and golf teams over the years, and that was certainly true in the late '90s. I was fortunate enough to play alongside many talented basketball players and golfers, leading to state championships in both sports during my time. Coach Adkins and Coach Weinerth were already legends when I came through, and I count it a blessing just to say I was even on a couple of their successful teams.

I'd be remiss if I didn't mention the educational experiences that laid the groundwork for my career in science and healthcare. I didn't fully realize how well prepared we were at Carlisle until taking college biology, chemistry, and calculus. Teachers like Mr. Newhams, Mr. Kelly, and Dr. Doan were tough but skillful teachers, and I was fortunate to learn from them."
Q: What is the most important thing you learned while at Carlisle?
A: "Carlisle students are presented with so many opportunities. Looking back, I'm glad that I challenged myself in areas that were outside of my comfort zone, both in and out of the classroom. This taught me that most of the limits I saw in myself were self-imposed."
Q: How did you get where you are today?
A: "After graduating from Carlisle, I enrolled at Radford University, where I studied chemistry in a pre-healthcare program. Although my original intent was to pursue a career in pharmacy following undergrad, I decided to give golf a try as a career. After moving to Florida, I joined the Golden Bear and Gateway golf tours on which I played from 2005 to 2006. Following my playing days, I moved back to Virginia and worked as a sales executive until 2008. Then, realizing more and more that I missed being involved in science and being offered a teaching position back at Carlisle, I couldn't pass up the opportunity. And I'm so happy I didn't.
From 2008 to 2013, I taught chemistry and physics and coached basketball, tennis, and knowledge-bowl teams. I absolutely loved my second stint at Carlisle – truly some of the best years of my life! However, there was still the goal of becoming a pharmacist that was not yet realized.

I decided to make the transition from teacher to student and enrolled at the Appalachian College of Pharmacy, graduating in 2017. Following graduation, I completed one year of residency, then joined the faculty at my pharmacy alma mater, with whom I work today. My clinical site is Sovah Health of Martinsville, where I work weekly, traveling at times during the academic year to teach various clinical courses at ACP.
Much of what I do as a pharmacist, preceptor, and professor is directly tied to science, math, and professional communication. Carlisle certainly helped me build this foundation and instilled in me what it means to be an effective educator, mentor, and colleague."
Q: Looking back, what is your favorite Carlisle memory?
A: "In 2012, I joined a cast of Carlisle graduates and current students in a tribute show of past performances to honor the works of Mrs. Owen-Williams and Mrs. Randall. As much fun as it was to take the stage with so many talented performers, it was even more gratifying to commemorate these icons of Carlisle theater and music."
Q: What advice do you have for current students who want to make the most out of their experience at Carlisle?
A: "I believe high school is often the phase of life when one begins to realize academic, and potentially professional, areas of interest. While I would certainly advise students to focus on areas that will likely extend beyond high school, I would also advise students to pursue other experiential opportunities. There are so many wonderful memories to be made at Carlisle."
---
Your story could be next! If you would like to be featured in an upcoming story, please visit our Alumni Highlights page to sign up. You can also nominate a classmate to be featured as an Alumni Highlight by contacting Development@CarlisleSchool.org. #OnceAChiefAlwaysAChief #CarlisleFamily