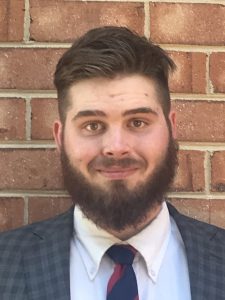 Class of 2015 alumnus Cameron Aaron is back home and making a difference for his alma mater, his community, and the world. He is currently giving back as an Upper School teacher at Carlisle. After graduating from Carlisle School, Cameron attended The Citadel: The Military College of South Carolina where he earned a 2019 degree in Political Science with a sub-focus in Military and International Affairs. 
While at The Citadel, Cameron participated in Army ROTC for all four years but due to a medical issue in his senior year, he was not able to commission as an officer. Since graduating he has started working as a legal aid and is currently teaching Upper School US Government and Policies at Carlisle School while applying to law school. 
Cameron explained, "One of the ways that Carlisle helped me prepare for college and now for my career is not only the education it provided but also the confidence the school instilled in me. No matter how challenging college or my career have been I have never felt that I couldn't accomplish the task at hand."
During his time as a student at Carlisle, Cameron participated in Archery, CHILL, Order of the Arrow, Boy Scouts of America, Varsity Tennis, and Varsity Cross Country. He was also very active in theater, performing in South Pacific, Twelfth Night, Godspell, Hamlet Zombies, Blood Wedding, The Wiz, and A Christmas Carol. 
Carlisle is very proud to have Cameron on campus as a faculty member this year. 
Share the News – Do YOU have some exciting college, career, or family news to share? We'd love to hear about it! Visit our Alumni Page or email Development@CarlisleSchool.org to tell us. Be sure to also join our Alumni Directory so that you can become a networking resource for fellow alumni.