A Carlisle education is an investment in the future. In this series, please join us in celebrating the stories and successes of our alumni.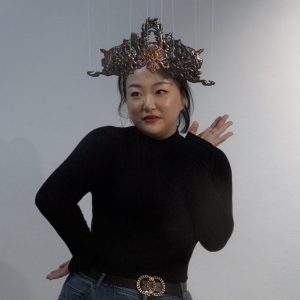 Qinyue Bonnie Xue '15, originally from Shanghai, China, entered Carlisle School's International Program in 2011. Prior to arriving in the United States at the age of 14, Bonnie "had generalizations about American high school based on movies like High School Musical and Mean Girls." She noted that she "was kind of worried because I don't see myself being a geek, a nerd, or a popular girl." But with support from the International Program staff, Bonnie embraced the Carlisle mentality and jumped into everything she could.
Interested in art, she was drawn to Carlisle's fine-arts program. "The fine-arts program helped me break through a lot of invisible walls and gave me the ability to freely express my thoughts," she explained. "Since Martinsville is such a small community, it made me feel like I was a part of something very important, and I could make a difference even though I was just a high school student." 
Bonnie recalled, "The play, South Pacific, I took part in during my freshmen year is definitely one of the many meaningful turning points that shaped who I am today. I remember I got to learn so many slangs and encountered many different personalities and talents that helped me understand who I am and what I am capable of." Also while at Carlisle, Bonnie earned an award for her artwork at Piedmont Arts' Expressions.
In her time at Carlisle, she saw "what true friendships look like and gained strength that I never thought I had."  She added, "knowing that I have so many people that truly care for me and think of me, make me very grateful and fearless towards any challenges that may come my way." 
After attending Carlisle she went on to the Virginia Commonwealth University School of the Arts. Bonnie said, "the four years that I spent at Carlisle allowed me to penetrate into American Culture. With that understanding of the culture, I was able to dive right into the dorm lifestyle [at VCU] with hardly any adjusting period." "And for my artistic practice, I was able to think globally so that my works speak an international language." During her time at VCU, Bonnie exhibited her work at the Quirk Gallery and The Meyer Gallery and studied art abroad in Italy.  
Looking back on her educational path, Xue explained that "The education I got from Carlisle definately prepared me better for the academic courses that I had to take in VCU. English is my second language and when facing the challenges of poetry, proper essay formatting, and critical thinking, I got a lot of confidence and knowledge from my experience with the wonderful faculty of Carlisle." She added, "that confidence allows me to worry less and have more time to challenge myself both academically and artistically."
According to Bonnie, "I am really proud of the bridge that I am able to form between the American community and the Chinese community. During my four years in VCU, I have met so many international students that just came to the States and so many American students that have never acquainted international students. And seeing those relationships integrate with my help between the two very different cultures, brings me back to the first day of my 8-year study abroad journey starting at Carlisle."
Bonnie will graduate from VCU this spring with a B.F.A in Craft/Material Studies. She is a talented jewelry and metal artist who has recently launched a website to showcase her art and she hopes to turn that into a career. 
When asked to share her advice for Carlisle's class of 2019, Bonnie replied: "be on time, be fearless, and have fun." #OnceAChiefAlwaysAChief #IAmCarlisle
Want to learn more about the Carlisle School International Program? Click here.
Purchase artwork by Bonnie through Instagram @bonniexueexclusive or via email bonniexueexclisive@gmail.com.