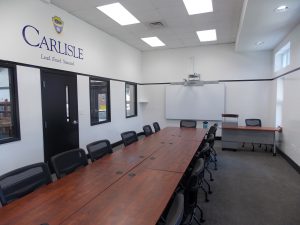 Construction began within the Frith Library at the end of last school year to outfit a designated space as The Garrett Family Technology Center. Thanks to a generous donation from Phil and Karen Garrett, Allen and Katherine Boaz, and Kitty Sue Hooker, the high-tech facility is now open.
In it you will find a 102-inch flat panel ActivWall and a  70-inch flat panel ActivPanel, which are both completely touchscreen and have wireless connectivity to any device. Coupled with new video and audio equipment, users of this space will have global resources at their fingertips. Students will be able to learn effectively with access to visual aids, videos, live streaming video, surround-sound audio and interactive screens. Campus-to-campus video will help our students connect with those on our Danville campus, as well as classrooms such as those at Virginia Tech.
Collaborative seating and tables for 25 will enable the space to be used for classes, meetings, presentations or group work. All walls have also been covered in whiteboard paint so teachers and students can even utilize the walls. To assist with the demands of this new center, a broadband buildout with the city of Martinsville has enabled users to access Internet resources at twice the speed prior to the upgrade.
"The Garrett Family Technology Center will allow Carlisle to connect with educational opportunities anywhere in the world," said Thomas P. Hudgins, Jr., Head of School at Carlisle. "Virtual field trips of the Louvre in Paris, collaborative river study with students at schools up and down the Smith River, singing in virtual choral groups with students in Orlando, viewing a slide under a digital microscope on a 70-inch super HD monitor . . . imagine the possibilities."
The Garrett family has a long history with the school, explained Phil Garrett. His sister, Katie Garrett, graduated in 1999 and his brother, Pres Garrett, graduated in 2004. He and his wife Karen have two children at Carlisle — Webb is in the sixth grade, and Maxie is in the third grade.
"We want to see Carlisle be here for the next generation," said Garrett of his family's contribution. "Technology is the future, [. . .] so if we're not preparing these students and allowing them to embrace technology, then we're doing them a disservice. So hopefully in our own little way, the technology center will serve as a catalyst for students as they interact and collaborate with not only each other but with others around the world."